High salt levels in ready made Sunday lunch warning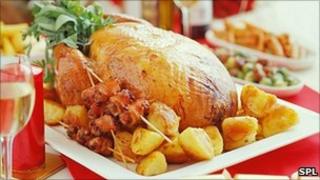 Including too many ready-made items in a Sunday roast could lead to excessive salt intake, says research from a health charity.
In a survey of 600 supermarket products, Consensus Action on Salt and Health (CASH) found that unnecessary amounts of salt are being hidden in certain items of prepared food.
But cooking and preparing fresh food reduces levels dramatically, it says.
UK supermarkets say they are leading the way in salt reduction in Europe.
Consensus Action on Salt and Health (CASH) said a family Sunday roast can be a "balanced and healthy" meal.
But it found that choosing all ready-made products for a typical Sunday lunch - meat, vegetables and condiments - could result in nearly 10 grams of salt being consumed.
An adult's daily maximum recommended salt intake is 6g.
But if people read the labels and buy fresh meat and veg, it is also possible to cook a roast dinner with less than 2g of salt, CASH says.
This salt content is almost six times less than the total for the saltiest products.
Some of the saltiest products CASH found were a peppered beef brisket joint with mustard and pepper stuffing from Asda (2.3g per 212.5g portion), Tesco Finest root vegetable mash (1.6g per 250g portion) and Sainsbury's red cabbage (1.01g per 150g portion).
A portion of Morrison's English mustard contains 0.5g of salt, as much as a packet of crisps.
Just a trace
However, CASH's survey also found many pre-prepared products which were low in or contained only a trace of salt.
Asda's butter-basted chicken breast joint contains only 0.3g of salt per portion.
And it found Sainsbury's buttered green vegetables and Tesco Value Yorkshire puddings contained just a trace of salt.
Sarah Cordey from the British Retail Consortium said the survey disregarded the large amount of fresh food customers use when preparing a Sunday meal.
She said the big supermarkets are doing "all they can" to reduce salt content.
"Our members are Europe's leaders in salt reduction and have made excellent progress in the last decade.
"The Food Standards Agency has found supermarkets' own-brand goods contain less salt than their branded equivalents," she said.
"Stores are keen to help customers achieve healthier diets.
"Retailers continue to lead the way on providing clear and detailed nutritional labelling on food products to give consumers all the information they need to make the choices that are right for them."
However Professor Graham MacGregor from the Wolfson Institute of Preventive Medicine, and chairman of CASH, said they should do more.
"Unnecessary amounts of salt are still being hidden in our food," he said.
"This puts both adults and children at risk of developing high blood pressure which causes strokes, heart attacks and heart failure, the commonest cause of death and disability in the UK.
"It is the food industry's responsibility to take the salt out."