Half of Europeans are overweight, a report shows
By Michelle Roberts
Health reporter, BBC News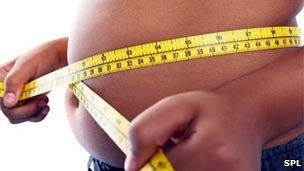 Over half of adults living in the European Union countries are now overweight or obese according to a report.
The rate of obesity has more than doubled over the past 20 years in most EU member states, international experts say.
The UK comes out worst, shortly followed by Ireland and Malta, where a quarter of the population is obese.
World experts meet this week to discuss how to reverse the "worrying trend".
The European Commission and the Organisation for Economic Co-operation and Development (OECD) who compiled the Health at a Glance Europe 2010 report believe the key to success is encouraging children to adopt healthy habits.
Currently, one in seven children in the EU is overweight or obese - and the figures are set to rise even further.
Only one in five children in the EU exercise regularly. Physical activity tends to fall between the ages of 11 and 15 in most EU Member States.
Children who are obese or overweight are more likely to suffer from poor health later in life, with a greater risk of developing heart disease, diabetes, some forms of cancer, arthritis, asthma, a reduced quality of life and even premature death.
European Commissioner for Health and Consumer Policy, John Dalli, said: "In order to reverse the growing trend in obesity and other health problems in the EU we need reliable and up-to-date data to underpin the action we take as policymakers.
"This is where the Health at a Glance report makes such an important contribution and shall be a useful tool in the coming months and years."
Meanwhile, nutritionists are warning that many Africans are putting their health at risk because they are not eating enough fruit and vegetables.
A United Nations conference has heard that diseases such as diabetes and obesity are becoming as great a cause for concern for the continent as malnutrition.
Research suggests that more than one-third of African women and a quarter of African men are overweight.
Related Internet Links
The BBC is not responsible for the content of external sites.