Cancer 'is nation's biggest fear'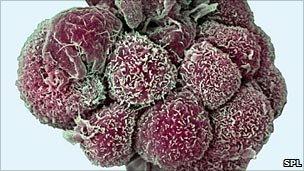 Cancer is the nation's biggest fear but more than a third wrongly think getting the disease is down to fate and there is nothing they can do to avoid it, say experts.
The poll of more than 2,000 UK adults shows cancer is feared ahead of debt, knife crime and unemployment.
Cancer Research UK, who led the survey, said it was important for people to realise cancer is not inevitable.
Half of all cancers could be prevented by healthy lifestyle changes.
Getting cancer is not purely down to genes, fate or bad luck. Indeed, only a small number of cancers are hereditary.
Whereas whether you smoke, drink and are overweight, as well what you eat and how much exercise you get can greatly influence your risk.
And even if a person does develop a tumour, if spotted early many cases can be treated to give a better chance of long-term survival, says the charity.
Thanks to screening and better treatment, the average 10-year survival rate for cancer has doubled over the past 30 years.
Half the people diagnosed with cancer today will still be alive in five years' time. And more than 40% will still be alive in 10 years' time.
The Department of Health is launching an England-wide campaign in January to raise awareness of the early signs and symptoms of the three most common cancers - breast, lung and bowel - to encourage people to seek medical advice as soon as possible.
Sara Hiom of Cancer Research UK said: "The fear factor is a serious wake-up call for the British public.
"It's absolutely vital for us to get the message out that people can do something to alleviate their emphatic fear of cancer.
"Cancer is no longer the death sentence people still seem to dread.
"Long-term survival has doubled since the '70s thanks to better diagnosis, improved treatments and the development of nationwide screening programmes for breast, bowel and cervical cancers.
"Spotting early signs and symptoms of what could be cancer - but probably isn't - and getting these checked out by a doctor means that the disease can be diagnosed more quickly."
Teresa Nightingale of the World Cancer Research Fund said: "It is a concern that so many people think cancer is a matter of fate, because there is now strong scientific evidence that people can make relatively simple changes to reduce their risk."