Doctors sign up to take over control of budgets
By Adam Brimelow
Health Correspondent, BBC News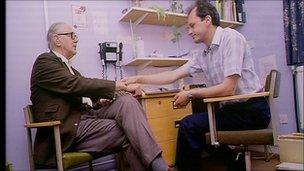 GP practices covering a quarter of England's population have signed up to trial a key NHS reform.
Health officials say the response to the scheme giving them control over budgets has been "overwhelming".
Nearly 2,000 practices across the country have grouped themselves into more than 50 consortia, to test the policy.
The British Medical Association says the figure is not surprising, as GPs know they will have to get involved.
Under the plans, hundreds of GP practice-led consortia will be set up across England to take charge of commissioning services for their patients. They will be handed up to 80% of the NHS budget.
Two tiers of health service management - Primary Health Trusts and Strategic Health Authorities - will be scrapped as part of a programme designed to cut bureaucracy and bring decision-making closer to patients.
Health unions and charities have expressed concerns over the pace and scale of the reforms.
Last month the chairman of the Royal College of GPs, Dr Clare Gerada, warned that they could erode trust between doctors and their patients, with GPs being seen as "the new rationers" of NHS care.
The British Medical Association questioned the value for money of the changes, and called for a "less disruptive" approach.
Health Secretary Andrew Lansley insists there is widespread support for GP practice-led commissioning in principle, but he has acknowledged that some see the timetable as too short. The changes are supposed to be in place by 2013.
In October he invited GPs interested in trialling the system to become part of a first wave of "pathfinders", to establish experience on how the system will work in practice.
A source at the Department of Health described the response as "overwhelming" - saying Mr Lansley had expected "a couple of dozen" consortia to come forward at this stage, covering about 10% of the population.
The government says the initial group will now include 52 consortia, including 1,860 practices that provide healthcare to 12.8m people across England.
Mr Lansley said this was just the start of a programme of transition.
"I am delighted by the response and the evident enthusiasm for taking these ideas forward. They have demonstrated an enthusiasm and excitement for change and shown that there are many GPs ready and willing to take on commissioning responsibilities, so they can make the decisions that better meet the needs of their local communities and improve outcomes for their patients."
Dr Clare Gerada from the Royal College of GPs agreed that the response was impressive.
"We have to ensure they learn rapidly," she said.
"We have to get on with finding savings in the health service and doing it while maintaining good patient care."
But Dr Richard Vautrey from the BMA's GP Committee said he was not surprised by the number coming forward.
"GPs have recognised that they will need to get involved in this programme," he said.
"They know that difficult savings decisions will need to be made in the coming year and want to be involved in making those together with the PCT."
Related Internet Links
The BBC is not responsible for the content of external sites.