Better heart failure care demand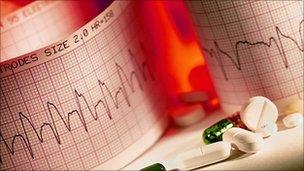 Nearly 5,000 lives a year could be saved if more people with heart failure got specialist care, a report suggests.
The National Heart Failure Audit found about 32% of people with heart failure died within a year of being admitted to hospital in England and Wales.
But the figure drops to 23% for those seen by a hospital cardiologist or cared for in specialist services.
This means the death toll among patients admitted to hospital could fall from 17,000 to 12,000 a year.
Heart failure affects about 900,000 people a year and occurs when the heart has trouble pumping blood around the body, often caused by heart muscle weakness.
The report, compiled by the NHS Information Centre and the British Society for Heart Failure, looked at the records of 21,000 patients.
It found about 46% of patients with heart failure admitted to hospital were treated on cardiology wards.
Of those patients who died in hospital, about 12% of those treated on non-cardiology wards died compared to about 6% of cardiology ward patients.
The number referred to heart failure liaison services also varies greatly, from almost 70% of patients under 45 to less than 21% of those aged over 95. There were also discrepancies in drug treatment.
And the study found that people from poorer areas were admitted to hospital about five years earlier on average than those living in the most affluent areas.
Report author Dr Theresa McDonagh said the differences in care were "unacceptable" and were causing a high death rate.
Professor Roger Boyle, the government's heart tsar, said: "Audits like the heart failure audit are vital in exposing existing flaws in the system that need improvement."
Dr Mike Knapton, of the British Heart Foundation, called for heart failure to get the same priority that heart attacks have.
Related Internet Links
The BBC is not responsible for the content of external sites.