Listeria warning to cancer patients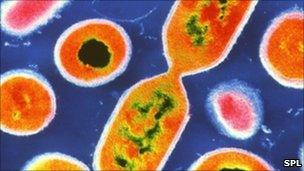 Advice for pregnant women on avoiding soft cheeses and certain other foods should be extended to cancer patients, according to public health experts.
Research by the Health Protection Agency found cancer patients were at increased risk of food poisoning from listeria bacteria.
The illness, which is rare, is linked to foods like soft cheeses and pate.
Cancer Research UK said patients undergoing chemotherapy should be particularly careful.
Martin Ledwick, head information nurse, said: "Currently patients who are receiving high doses of chemotherapy should be advised to take precautions to avoid food-borne infections.
"This study may suggest that this advice should be extended to all cancer patients having any type of treatment that compromises their immunity.
"However, as it is not clear from the work what type of treatments the cancer patients with listeria were having, it's not certain whether this precaution is absolutely necessary for all cancer patients."
Listeria is a rare but serious illness caused by food containing the bacterium Listeria monocytogenes.
If caught during pregnancy, it can cause miscarriage. The infection can also lead to blood poisoning or meningitis in people with a weak immune system.
Cases are on the rise in the UK, particularly in the over-60s.
A team from the Health Protection Agency (HPA) reviewed 1,413 people, excluding pregnant women, who had listeria between 1999 and 2009 in England.
Most of these had underlying conditions, which put them at increased risk of catching listeria.
Cancer patients had a particularly high risk - almost five times that of people with other illnesses such as diabetes.
The highest rate was among those with cancers of the blood.
Dr Bob Adak of the HPA said: Our research has shown that those receiving cancer treatment or suffering from a variety of conditions, including diabetes, kidney or liver disease, should be offered appropriate health advice on how to avoid listeria.
"At present this is given passively and mainly to pregnant women, but clearly there are other groups of people who need to be advised on what they can do to protect their health.
"Listeria can cause serious illness or even death in those people who have serious underlying health conditions.
"Taking steps to avoid infection is a very important part of managing their health and these groups need to be made aware of how they should do this."
Related Internet Links
The BBC is not responsible for the content of external sites.