Child operations: District hospitals opting out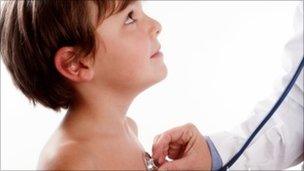 Many English district general hospitals can no longer provide basic surgery for children, a review has found.
Complex surgery for everything from cancer to trauma care is increasingly being done in specialist hospitals.
This leaves local hospitals to concentrate on more minor issues such as appendicitis, abscesses and hernias.
But the report by the Royal College of Surgeons showed more than half of the 305 hospitals in England no longer carried out basic emergency operations.
For elective treatment the figure was little better at just over 40%.
All the hospitals reviewed had the facilities for minor surgery, but often they did not have enough staff, particularly anaesthetists.
The Royal College of Surgeons said the shift to providing care in specialist centres meant that staff in district generals were not getting the training and experience needed to sustain basic surgery.
It meant that a large proportion - about 40% - of the workload of specialist hospitals was being taken up on basic treatments, causing delays and long journeys for many families.
Su-Anna Boddy, who led the research, said the situation meant that families in some areas were "at a disadvantage" and called on local hospitals to tackle the issue.
The report said one way this could be done was by working in partnership with specialist centres - there are just over 20 - so that doctors with expertise in child surgery did shifts in district general hospitals.
Health Minister Anne Milton said: "Surgery for children can often be a traumatic time for them and their families. So it's vital that we improve general surgery facilities for children in hospitals as local to them as far as possible.
"Hospitals need to work together better to make sure there is the capacity for local, safe routine surgery for children."
Related Internet Links
The BBC is not responsible for the content of external sites.