Get vaccinated against flu virus this winter, warns HPA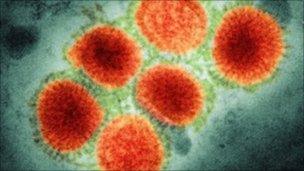 The Health Protection Agency (HPA) has confirmed that 17 people in the UK have now died from flu-like illnesses this winter.
Fourteen of those who died were infected with the H1N1 swine flu virus while three others had the influenza B virus.
The HPA is warning that the rate of vaccinations among vulnerable younger people is low.
Just 40% of those under 65 and considered to be at risk have had a flu jab.
Professor John Watson, head of the respiratory diseases department at the HPA, said it was not unusual to see this level of flu activity at this time of the year.
But with swine flu one of the predominant strains circulating at the moment, there are more cases of severe illness in people under the age of 65 than is normal.
"Flu can be an extremely serious illness for pregnant women, the elderly and those with other underlying conditions such as heart problems, diabetes, lung, liver or renal diseases and those who have weakened immune systems," Professor Watson said.
"Flu vaccination offers the best protection for those at high risk from seasonal flu and we urge all those in these 'at risk' groups - including pregnant women and healthcare workers - to get themselves vaccinated as soon as possible.
"It's not too late and it could save lives."
To put the latest figures in context, in the 12 months to mid-April of this year there were 474 confirmed swine flu deaths.
Professor Dame Sally Davies, interim chief medical officer for England, told the BBC that flu was not more prevalent than for the same period in previous years.
But she said the number of cases was growing.
"We've had a rise in reports over the last week - 35 cases per 100,000 (people) consulting their GPs, from 13 the previous week."
And she too raised concerns about the rate of vaccinations among younger people.
"The issue I'm very concerned about is we're not getting everyone at risk - including pregnant women - vaccinated.
"Our vaccine uptake is about 2% down on last year so we're doing better than many other countries but when young people come in, particularly with H1N1 to hospital, most of them don't seem to have been vaccinated.
"They could prevent serious illness and death and it's very important that they get vaccinated."
Related Internet Links
The BBC is not responsible for the content of external sites.