Urgent appeal for blood donors as stocks run low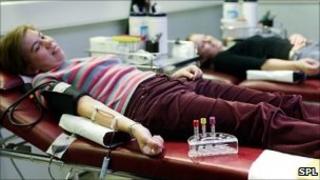 The NHS is appealing for people to donate blood because of low stocks caused by the bad weather.
The NHS Blood and Transplant Service said stocks of O negative have fallen below "preferred levels."
O negative is an a key blood type because it can be given safely to patients in other blood groups.
The service, which covers England and north Wales, warns the return of the wintry weather could make the situation even worse.
O negative is the only safe option when a patient's blood group is unknown or not immediately available.
This means it is vital in emergencies and for procedures on unborn babies.
The Welsh Blood Service is also appealing for donors. It particularly wants O negative and A positive donors to come forward.
The service had to close its sessions early today, due to adverse weather.
In Scotland, the Scottish National Blood Transfusion Service said that stocks were holding up well, thanks to the response from donors there to appeals last week.
However Dr Moira Carter of the service said they were still aiming to build stocks up in the run up to Christmas.
Cancelled sessions
Sixty-nine blood donation sessions were cancelled in one week across England and North Wales during the worst of the weather.
At the sessions which did take place, fewer donors attended than would normally have been expected.
In badly-affected areas the NHS Blood and Transplant service used 4x4 vehicles to move blood supplies to hospitals to ensure that patients received the treatment they needed.
Jon Latham, assistant director of blood donation at NHSBT, said: "We would like to thank everyone who has given blood over the past few weeks, particularly when the weather was bad.
"We rely on the generosity and commitment of volunteer donors to help us maintain the vital supply of blood to hospitals."
He added: "To boost stocks we need to ensure that we make the most of the sessions that are going ahead to try to make up for the cancellations in other areas and urge donors to make every effort to attend if they possibly can.
"We especially need O negative donors at the moment as we have experienced higher than expected orders for this type of blood in the past week."
Giving blood is vital to ensure that patients undergoing surgery and receiving treatment for cancer and blood diseases, such as leukaemia, continue to receive the transfusions they need.
To book an appointment to donate blood, call the Donor Line on 0300 123 23 23.
For Wales, call 0800 25 22 66
In Scotland call 0845 9090 999