Runner helping to find treatment for lung cancer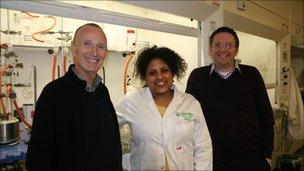 When running enthusiast Steve Lee was diagnosed with mesothelioma in 2007 the last thing he imagined was that he might eventually help find a treatment for the asbestos-related lung cancer.
Steve was told he could be dead within the year, but today he is very much still alive and thanks to his efforts research into a possible treatment has begun.
After overcoming the initial shock of his diagnosis he decided to dedicate his remaining time to raising money for research into mesothelioma.
Among other things Steve, now 65, ran a half marathon and along with his club, the Reading Roadrunners, raised more than £40,000 ($62,000).
That money is being used to fund the research at Queen Mary, University of London.
The researchers have begun synthesising a naturally-occurring compound, which is believed to kill mesothelioma cells.
They want to produce it in sufficient quantities so that tests can establish whether it can be used to treat sufferers.
On a visit to Queen Mary's laboratories, Steve said: "Up till now the prospects for anyone with mesothelioma have been pretty grim and dire, so any glimmer of hope of a treatment is just wonderful.
"It's great to be able to meet those involved and ask them things about the research."
The university has matched the sum raised by Steve and the club and is building on work carried out by Japanese scientists on the JBIR-23 molecule, which is isolated from strains of the Streptomyces bacteria.
"They were just looking at it as a natural product that had a very unusual chemical structure and it was a side feature that they happened to report that it was toxic against mesothelioma cells," said Dr Adrian Dobbs, the organic chemist who is supervising the work.
"I think it's very unlikely that we'll ever have a complete cure, but if their data are correct then it could certainly have a very powerful effect on giving longevity and a massively improved quality of life.
"Up til now no natural compounds showed any activity against this particular cancer," he added.
Dr Dobbs' interest in the work is both personal and professional. His own father died of mesothelioma in 1998.
"My mother and I had experience of the disease at a time when there was no treatment and now hopefully we can contribute to advances in developing one," he said.
Working with Dr Dobbs is PhD student Seble Lemma, who will carry out most of the work.
She said of Steve: "It feels very good to actually meet him in person and get to know him. It's really a great opportunity."
The university says it will pass the compound and analogues of it to Barts and the London hospitals who will assess their activity against mesothelioma.
The work is likely to take several years, but Steve says he does not mind that he may not benefit from it.
"I'm simply glad that my efforts have contributed in some small way towards helping future sufferers," he said.
Steve, who believes he contracted the disease while working on building sites as a student, is still raising money for the June Hancock Mesothelioma Research Fund, who helped set up the project at Queen Mary.
A radio version of this report can be heard on BBC World Service's Health Check programme on 27 December.
Related Internet Links
The BBC is not responsible for the content of external sites.