Over 300 people in intensive care with flu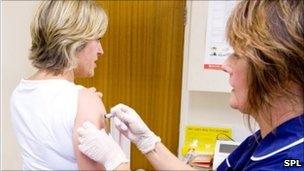 There has been a dramatic rise in the numbers of people admitted to intensive care with flu, officials say.
Government figures show that 302 beds are now occupied by flu patients. Last week 182 beds were being used.
It is not known how many of those patients have H1N1 "swine flu".
Experts urge everyone in at-risk groups, particularly pregnant women, to get vaccinated to protect them against flu viruses. The jab protects against both seasonal flu and swine flu.
New figures on the number of deaths from seasonal flu and swine flu will be released by the Health Protection Agency on Thursday.
Professor David Salisbury, the government's director of immunisations urged all at-risk groups to get immunised.
He said pregnant women should "seek every means to get vaccinated as soon as possible".
For most people, swine flu is a mild illness.
However, some groups of people are more at risk of serious illness if they catch flu.
Health Secretary Andrew Lansley briefed Cabinet colleagues this morning on the flu situation. He told them the NHS had plenty of capacity to deal with the recent upsurge in cases.
Flu patients are now using 9% of intensive care beds.
At the peak of last year's epidemic, 180 people were in critical care with confirmed or suspected flu, including swine flu.
Shadow Health Secretary Jon Healy said the government had made the "wrong judgement" in not having a autumn advertising campaign around vaccination. He said it had "left too many people without the flu protection they should have".
Vaccination rates are 2.5% lower than last year.
Related Internet Links
The BBC is not responsible for the content of external sites.