Average UK male weight up 16lb in 15 years, study finds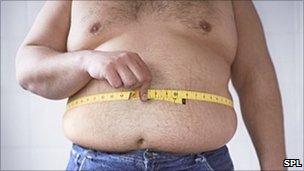 The average British man was more than a stone heavier in 2000 than he was in 1986, an Oxford University study found.
Scientists put the average weight rise of 7.7kg (16.9lb) down to men eating more calories and taking less physical exercise than 15 years earlier.
The British Heart Foundation research in the British Journal of Nutrition analysed changes in food consumption and body weight between 1986 and 2000.
Women's average weight gain over the period was 5.4kg (11.9lb).
By studying official figures on body weight from 1986 and 2000 and calculating the food energy available during that time, researchers were able to work out the expected extra food eaten by men and women during that period.
They predicted that the average man in 2000 ate more food than the average man in 1986 - enough to make him 4.7kg (10.3lb) heavier in weight.
But the actual observed increase in average male weight turned out to be higher.
This was much more than expected, so the study concluded that a reduction in physical activity was behind the increased weight as well as the extra food.
The extra food available in 2000 was enough to explain the increased weight in women compared to 1986.
Research shows that larger men are at greater risk of heart disease and the number of overweight men has been increasing over the past 20 years.
In England, 25% of men were classed as obese in 2008.
This compares with only 7% who were obese in 1986.
Dr Peter Scarborough, senior researcher in public health at Oxford University, said that there could be a number of reasons for the reduction in exercise in men in his study.
"The problem is really how people are getting around. They are driving more, cycling less and more likely to be employed in a sedentary job.
"Physical activity is slowly being removed from day-to-day life."
The British Heart Foundation said the research suggested "a ticking time bomb for male health" and stresses the importance of regular exercise and a balanced diet.
"Obesity is a major risk factor for diabetes, heart disease and stroke and contributes to premature death and poor quality of life," a spokesperson said.
Related Internet Links
The BBC is not responsible for the content of external sites.