Many women face cancer risk 'due to waistlines'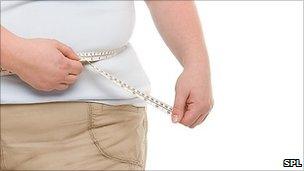 Nearly half of women in England are at increased risk of some cancers because of their large waistlines, says a cancer charity.
The World Cancer Research Fund warning is based on data from the Health Survey for England suggesting 44% have a waist size exceeding 31.5 inches (80cm).
Research has found that these women are particularly at risk from bowel and breast cancer.
A third of men had a larger than recommended waistline.
The Health Survey for England, which monitors trends in the country's health and is commissioned by the Department of Health, was published earlier this month.
It contained information and statistics on obesity and raised waist circumference in men and women in England.
Previous scientific studies have shown that excess body fat increases cancer risk.
There is strong evidence that a large waistline is particularly harmful and raises the risk of cancers of the bowel, pancreas, breast (post-menopausal) and womb lining, the World Cancer Research Fund says.
Dr Rachel Thompson, deputy head of science for WCRF, said it was often thought that men were more likely to put on weight on their stomach.
"But these statistics show that, actually, women in England are more likely to have a raised waist circumference than men.
"This is why it is important that we let women know that this is just as relevant for them, particularly as breast and endometrial cancers account for about a third of newly diagnosed cancers in women," she said.
Dr Thompson added: "Over the last few years the evidence has become increasingly strong that excess body fat, and particularly fat carried around the middle, is a cancer risk factor."
Related Internet Links
The BBC is not responsible for the content of external sites.