Year in review - medical advances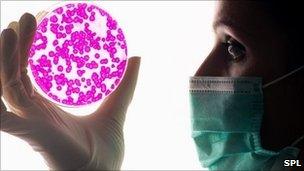 The year 2010 may be remembered as the one when embryonic stem cells finally made the leap from laboratory to patient.
Cells from embryos have been studied in the lab for more than a decade, leading to hopes that they may one day become a "made-to-measure" tissue for patching up aging and damaged organs.
In October, they were injected for the first time, in a clinical trial at least, into US patients with spinal cord injuries.
The study by Californian biotech company, Geron, aims simply to test safety. But medical observers will be watching closely to see if stem cells - the master cells of the human body - can live up to their hype.
The more humble medicine, aspirin, also made it into the medical halls of fame once more. Research published in December suggested the penny-a-dose pill may cut the death rate for many common cancers when taken for some years by the middle-aged as a low daily dose.
But experts advised caution, saying aspirin should only be taken on the advice of a doctor.
One of the biggest trends in 2010 has been work on "personalised medicine" that uses genetic testing to match specific treatments to individual cancer patients.
In the long-term, this is expected to "bring the benefits of the genetic revolution to patients across the UK".
Harpal Kumar, Cancer Research UK's chief executive, said: "The decoding of the genome, a decade ago now, has helped drive an explosion in our understanding of cancer.
"Now we are in a golden age of using that understanding to make a difference to patients."
In the field of diabetes, research continued into developing an artificial pancreas for children.
Researchers are also working on genetic tests that will allow drugs to be better targeted at individual patients.
Advances in understanding heart disease included fundamental discoveries in blood pressure control, through to large-scale trials that will influence the way statins are prescribed.
Professor Peter Weissberg, medical director at the British Heart Foundation, said as the nation ages, the number of people living with heart disease is increasing, so there is still much research to be done.
"In particular, we are still a long way from solving the major unsolved issue of fixing hearts that have been damaged by a heart attack," he said.
"In 2011 we want to see an acceleration of research in this area to make treatments to repair a damaged heart a reality."
Researchers are continuing to focus their efforts on dementia, which now affects 820,000 people in the UK, and in just 15 years, a million people in the UK will be living with dementia.
The role of lifestyle factors made a number of headlines this year.
"The link between dementia and obesity is now irrefutable," said Dr Susanne Sorensen, Head of Research at the Alzheimer's Society.
"Exercise in particular has really shone through as the most effective way to delay or avoid dementia, and clinical trials have shown that exercise improves the symptoms of dementia for those with the condition.
"Effective prevention of diabetes, depression and heart disease and controlling cholesterol and blood pressure has also all been found to benefit not only the heart, but also the brain. "
She said while there have been no new treatments available in the past few years, there are some interesting approaches in the pipeline.
"Immunotherapies such as vaccines are beginning to emerge as a promising approach," said Dr Sorensen.
"In particular a therapy called Bapineuzumab, currently in Phase III clinical trials has been shown to remove both of the important Alzheimer's proteins, amyloid and tau, from the brain."
This year, there were also breakthroughs in earlier diagnosis of Alzheimer's, and in prevention.
Dr Marie Janson, from the Alzheimer's Research Trust, said: "The importance of work this year towards a simple blood test for dementia cannot be overstated. With more research, we could be looking at a quick and cheap test for Alzheimer's and a real turning point."
A University of Oxford study also gave hope for preventing Alzheimer's through B vitamins.
The Oxford team revealed that daily tablets of high dose B vitamins can halve the rate of brain shrinkage in elderly people with early signs of dementia.
Rebecca Wood, Chief Executive of the Alzheimer's Research Trust, said: "We hope that longer term trials of B vitamins show promise in warding off Alzheimer's.
"If a cheap and accessible vitamins could offer protection from Alzheimer's, this would be a major breakthrough for public health."
Related Internet Links
The BBC is not responsible for the content of external sites.