GPs report flu cases rose again last week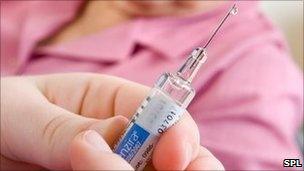 Flu cases have risen again in England and Wales, according to figures from GPs.
Levels of flu - including H1N1 swine flu - have gone up by almost 50% in the past week, says the Royal College of GPs.
The flu tally reached 124 per 100,000 people in the week to Christmas, up from 86 cases in the previous week.
Health officials in England define an epidemic as 200 cases per 100,000.
Wednesday's figures come amid political debate over the decision not to give all young children a flu jab this winter.
Labour has criticised the lack of protection for healthy under-fives, but the government says they were excluded on medical and not cost grounds.
The latest figures show the highest rates are in children aged under five - at 184 cases per 100,000.
Professor Steve Field, a former chairman of the Royal College of GPs, said there was no indication in the current expert advice that across-the-board vaccination of young children is necessary.
He told the BBC: "Looking at the evidence - looking at where we are in this early epidemic, there doesn't seem to be any indication.
"But we do need to do better in those children who have asthma, who've got heart disease or other diseases and particularly pregnant women.
"I'm worried about the number of sick pregnant women who haven't been vaccinated. And we can prevent this illness by vaccination, which is safe."
The latest figures give an indication of the extent of this winter's flu outbreak, based on people visiting GP surgeries in England and Wales with flu-like symptoms.
Flu cases have risen steadily in England and Wales from 32.8 per 100,000 in week 49, to 85.8 in week 50, to 124.4 in week 51.
The latest figures for Scotland, released on 23 December, show a rate of GP consultations for flu of 45.8 per 100,000.
In Northern Ireland, the latest figures available - for week 50 - show an increase from 28.1 to 64.6 per 100,000.
New figures for flu cases in Scotland and Northern Ireland will be released on Thursday.
A Department of Health spokesperson said the figures for England and Wales were "in keeping with what we would expect during a winter flu season".
The spokesperson added: "But everyone can do their bit to help keep well - simple measures like washing your hands help stop flu spreading.
"The Chief Medical Officer has issued clear advice to get the seasonal flu jab if you are in a vulnerable group, particularly pregnant women and people with underlying health conditions, as well as those aged 65 and over."
The vaccine protects against H1N1, the same strain of flu behind last year's swine flu pandemic, and also protects against the H3N2 and B strains.
Meanwhile, managers at a hospital on Merseyside have suspended visiting until further notice to minimise the chances of visitors passing on colds and flu.
Restrictions apply to relatives of patients at Arrowe Park Hospital in Birkenhead, Wirral.
A flu outbreak has also been reported in France.
French health experts said on Wednesday the country was officially in the grip of a flu epidemic, with 176,000 people sick, two of whom have died.
In the UK, 27 people have died from flu this season, of which nine were children. Among the fatalities, 24 had swine flu. Three suffered from another strain, flu type B.
According to the World Health Organisation, flu epidemics result globally in about three to five million cases of severe illness per year and 250,000-500,000 deaths.
Related Internet Links
The BBC is not responsible for the content of external sites.