Pregnant women 'face more risks overnight'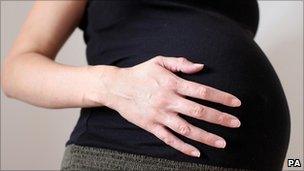 Pregnant women who give birth overnight at NHS centres are more likely to receive inferior treatment, the UK's chief maternity specialist has said.
Dr Tony Falconer told the Guardian that inexperienced staff on night shifts were more likely to make poorer decisions than their day colleagues.
He said more senior doctors overnight would mean "fewer mishaps".
The Department of Health said all mothers should expect "excellent care" all the time.
He said: "I don't want to frighten people and say that the quality of care at 2am is appalling, but it's not the same level.
The consultant gynaecologist said that mothers faced more risk at night because trainee obstetricians and other integral staff such as anaesthetists tended to be less experienced than those who worked day shifts.
He said: "Obstetric care isn't the same at 3am as it is at 3pm, and it should be. This is a matter of huge concern.
"Care overnight isn't as robust as it is at 9am or 2pm. It's not as good. At 2am, you do not have the same experience."
He added that junior obstetric doctors could lack the technical skills and experience needed to use forceps or vacuum to help make the birth process easier.
They may also take longer to realise if new mothers had any complications after giving birth.
He also said that there appeared to be a disproportionate number of NHS payouts over alleged medical negligence in childbirth which involved babies who were born overnight.
The NHS reportedly spends around £300m a year settling these type of cases - money, Dr Falconer said, could be spent on paying for up to 1,000 senior doctors.
He said the NHS ran a multi-tier service - which was inappropriate for acute cases.
"One of the ironies of the health service, and this view is shared by very senior people, is this culture that the NHS basically runs at one level for 40 hours a week, and at a completely different level for the rest of the week.
"And when you are dealing with acute services, that shouldn't happen," he said.
Louise Silverton, deputy general of the Royal College of Midwives, said she agreed with Dr Falconer's comments.
She added: "The same applies to midwife staffing levels, because they're always on a knife-edge due to the increased birth rate.
"We used to have busy periods, less busy and quiet periods. Now we only have very busy and exceptionally busy periods.
"If things ever go wrong or get particularly busy, especially during the night, then we have limited capacity to cope."
In a statement, a Department of Health spokeswoman said that all mothers "should expect consistently excellent maternity services no matter what the time of day or night".
She added: "Our proposals for maternity networks are designed so that mothers are able to get safe and quality maternity services. Local maternity services should ensure there are appropriate numbers of professional and support staff, and staffing levels should be reviewed and audited annually."
She said the government was also committed to improving the number of midwives.
Related Internet Links
The BBC is not responsible for the content of external sites.