Flu surge expected as schools and workplaces reopen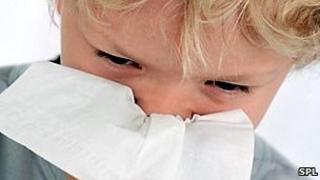 Experts are warning there could be a surge in flu cases as people return to work and school following the Christmas holidays.
Parents are being urged to remain vigilant over the threat of flu, but High Street pharmacies have been refusing to vaccinate under-18s.
Anxious parents seeking to buy the jab to protect their children have been turned away empty handed.
Children who are otherwise healthy do not qualify for a free NHS flu jab.
But the Department of Health says there is nothing to prevent pharmacies offering the vaccine to children on a private patient basis.
However, some pharmacies say they are unable to vaccinate children because it would breach company policy or regulatory rules.
Boots, Superdrug, Tesco and Lloyds pharmacy said they were unable to offer the jab to children.
A spokeswoman for Lloyds pharmacy said this was something they were looking to potentially change.
"We understand that there is frustration from parents who want to vaccinate their children this winter and we will look to review this to consider if in future flu seasons we can offer flu vaccinations to younger patients."
Protect yourself
During last year's pandemic flu season children aged under 5 were offered free flu jabs by GPs.
But experts decided a similar policy during this year's flu season was unnecessary and that vaccines should be limited to those in at risk groups, such as children and adults with long-term illnesses like asthma.
Professor John Oxford, an expert in virology at St Bartholomew's and the Royal London Hospital, said parents of children in high-risk groups should have them vaccinated as soon as possible.
"This virus is not going to go away next week. Even if it's already peaked, it's still going to be around for the next couple of weeks and it's still worthwhile being vaccinated at this stage."
He said that the return of children to school had in the past prompted a rise in the number of flu cases.
"You tend to get a surge," he said. "I would anticipate a surge, but how long that will last is difficult to say."
He said there was no need for panic but that parents should adopt a disciplined approach to curbing the spread of flu by keeping children away from school if they showed signs of flu.
The Royal College of Paediatrics and Child Health said it was concerned about the rising number of flu cases, and how it appears to be affecting certain age groups.
"We would therefore encourage all children who are in an at risk group, such as reduced immunity, breathing difficulties and diabetes - who have not yet been vaccinated, to take up the offer of the vaccination.
"Paediatricians are working closely alongside other medical colleagues, both in community and hospital settings to provide services to children and their families," said a spokesman.
So far this flu season there have been 39 reported deaths across the UK attributed to influenza.