Call to create 'one-stop shop' for health research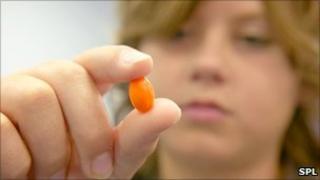 A new body to regulate all health research in the UK should be established, according to a report by the Academy of Medical Sciences.
The authors described the current system as a disaster, which was stifling medical advances.
They blame red tape for the decline in the UK's share of clinical research.
Health Secretary for England, Andrew Lansley, said the government would consider how the recommendations could be implemented.
The report argues that creating a Health Research Agency would make approving projects quicker and cheaper.
Bureaucratic nightmare
The UK has been falling behind in clinical trials.
Global figures show that in 2000, 6% percent of patients taking part in trials were from the UK. Six years later that figure had more than halved.
Professor Sir Michael Rawlins, who wrote the report, blamed red tape, saying: "The current system of regulation is making it increasingly difficult to initiate health research.
"We have found unequivocal evidence that health research in this country is being jeopardised by a regulatory framework that has become unnecessarily complex and burdensome."
Professor Peter Johnson, who is from Cancer Research UK and took part in the report, said: "It takes an average of 621 days between awarding a research grant and the first patient taking part in the trial.
"We've built a Rolls Royce and are driving it down a cart track."
One decision
The report concludes that a new "one-stop shop" should be established to speed up the process.
The proposed Health Research Agency would be the only place giving ethical approval.
It would include a National Research Governance Service which would perform checks on behalf of NHS Trusts in England.
This would effectively incorporate the work of the National Research Ethics Services and a host of specialist approval bodies such as the Gene Therapy Advisory Committee as well as the need for individual NHS trusts to give their own approval.
The experts hope such as system would significantly reduce the time it takes from getting a grant awarded to the first patient taking part in the trial. In cancer, it has the potential to reduce that timeframe from nearly two years to two months on average.
Allison Jeynes-Ellis, medical and innovation director at The Association of the British Pharmaceutical Industry, said: "The timely endorsement of this report is vital if the UK is to be seen as a serious player in clinical research in an increasingly competitive arena".
Mr Lansley, said: "National regulation and local governance of health research are too complex and scattered across too many different bodies.
"The government welcomes the report and will consider carefully how to implement its recommendations."
The agency would work with the devolved nations to develop an integrated approvals system for the whole of the UK.