Early medical abortions: bid to change the law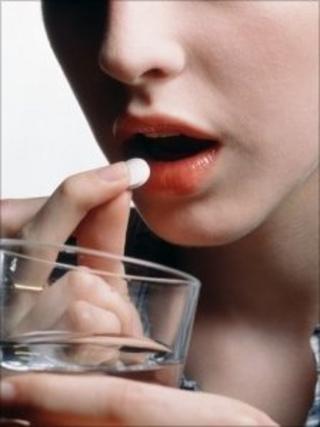 Women having an early medical abortion should be allowed to take some of their pills at home, a charity says.
The British Pregnancy Advisory Service (BPAS) is seeking a change in the law so women can choose where they complete their treatment.
Women currently have to make two visits and are given pills each time.
The Department of Health opposes the change, which would bring England, Scotland and Wales into line with countries including Sweden and France.
Early medical abortions involve taking two sets of pills. These are taken 24 to 48 hours apart in order to induce a miscarriage.
They are available to women seeking abortion in the first nine weeks of pregnancy.
After an initial consultation, women have two appointments with a doctor and both times are given a set of pills.
In some other countries, both sets of pills are handed over at once and women are given instructions about when they should take the second set.
BPAS said giving women both sets of pills at once would mean women could control where the abortion actually takes place, and could be sure that they would not experience cramping and bleeding on the way home from their appointments.
The charity is challenging whether the legal definition of "treatment" for abortion covers both the prescription and the administration of medication.
The legal challenge only applies to England, Wales and Scotland. Abortion is illegal in Northern Ireland unless the pregnant woman's life is in danger.
Under the 1967 Abortion Act, treatment has to be given in a hospital or clinic. The charity argues that treatment covers the prescription of the pills - but not necessarily their administration.
If the court agrees, then abortion clinics would be able to give women both sets of pills at once.
The Department of Health is contesting the case, on the grounds that "treatment" covers both prescription and administration of the drugs.
Concerns
The Conservative MP Nadine Dorries also opposes BPAS's challenge, claiming it would send out a message that you can use abortion as contraception.
She is also concerned that young girls having early medical abortions would feel isolated and frightened.
"They're assuming that everybody who takes a second pill travels home to a clean comfortable environment where there will be a telephone and support, maybe a kind person to help someone through that procedure, " she said, "(but) that doesn't apply to every case.
"Many of these girls will be very young, very frightened and very alone."
However, the charity said that women would still be offered a choice and could choose to go back to the clinic to take their second set of tablets if they so wished.
The chief executive of BPAS, Ann Furedi, said they wanted to give women greater choice over when and where their abortions occurred.
She said it would improve the service they could offer women, but not extend that service: "This is about making it as easy as possible for women who are entitled to an abortion to have that abortion, it does not make it easier for women to obtain an abortion."
The charity Life, which opposes abortion disagreed:
"BPAS's intention is to increase access to abortion yet further, by making it little more than a pill-popping exercise"
The action is supported by the Family Planning Assocation which said:
"Provided they are given the right advice and support, some women, for personal and practical reasons, will be more comfortable taking the second stage of medication at home."
In 2009, around 70,000 women in England and Wales had early medical abortions, which was 48% of all women seeking abortion below nine weeks. There were 6,500 early medical abortions in Scotland.
BBC News website readers have been sending in their reaction to the story:
My 18-year-old daughter had the early medical abortion at six weeks of pregnancy. We had to travel two hours away to hospital for each pill. The second pill day was very traumatic, she had it late in the afternoon and was basically left to get on with it but not able to leave the hospital until 2200. We then had to travel home (complete with a road closure and very scary diversion) arriving at around 0100. It was a very stressful and it would have been much better for my daughter if she could have had both pills administered either at our local surgery or hospital and then sent home, or given to her to be taken at home where she would have felt much more comfortable. Denise, Powys
I had to have a medical abortion in 2008 due to having had a missed miscarriage. The placenta was still growing due to not realising the foetus was dead. If I hadn't had the second tablet in hospital I would never have known that I didn't pass all of the pregnancy after the second pill. As a result of having been in hospital at the time the nurses were able to tell how little of the pregnancy actually came away, so were therefore able to scan me fortnightly, coming to the conclusion that surgery was the only answer. This was the first time I had these pills, so I would not have been any the wiser that things hadn't gone accordingly. As a result my fertility could possibly have been affected if I had not been under professional care. Luckily due to the diligence of the NHS staff and the law, as it stands at the moment, my fertility wasn't affected and I now have a beautiful one-year-old son. I am strongly against having the second pill at home! Louise, Gainsborough
I had an abortion a few years ago and even though I did not have the two pills I think yes, I would also have liked, given the choice, to take it at home. However, I was 100% sure about my decision. My concern is for women who are not so certain, or who have people around them, that are not very supportive and may pressure them not to continue with their choice. In which case, there is a risk they may not take the pill and if this happens, there could be health consequences for both the woman and the child. Saskia, High Wycombe
I'm not sure if I agree with the new bid. From what I gather I think giving women such freedom over the use of the drug could make its application open to abuse. It makes it easier for individuals to pass them on or even sell them to others, who maybe cannot legally get an abortion. It would also make it easier for women to terminate the pregnancy after the legal period. Richard, Bradley Stoke
I don't know why the Department of Health are opposing this. Women are given IVF drugs to take at home, at a prescribed time, so other than people's personal moral opinions, what's the difference? Sandy, Cumbria
Myself and my now ex-girlfriend went through an early medical abortion last year. I am struck by Bedfordshire's MP, Nadine Dorries' suggestion that girls may feel more alone in taking the second set of pills at home. This is surely true for some and they should still have the option of being treated on a ward but under the current system, when a girl takes the second set of pills she must go to the ward alone, to protect the confidentiality of the other girls on the ward. This means being on a ward, among strangers, for several hours while having a self-induced miscarriage. For what it's worth I felt helpless and excluded from the process, waiting anxiously in a hospital cafe for her to be allowed to leave. The option to take both sets of pills at home, with the support of a friend, family member, partner, or just some privacy, would surely reduce the trauma of an abortion drastically. Geoff, Glasgow