Medics learn breast surgery online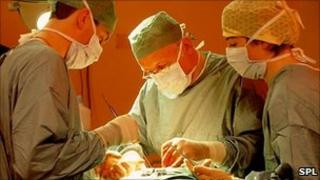 Surgeons are learning how to perform breast operations online in the first course of its kind in the world.
The University of East Anglia e-learning course qualifies trainee breast surgeons as specialists in breast cancer and breast reconstruction surgery.
Eighty per-cent of the course is e-learning based with just 20% involving practical skills, including surgery.
Students will primarily be taught via online video lectures and seminars. They are also encouraged to discuss cases in chatrooms with other students.
But face-to-face training also has a part to play.
Assessment takes place throughout the length of the two-and-a-half year course and training days at the Royal College of Surgeons are organised, in addition to visits from local trainers who act as mentors.
All those on the course are practising surgeons, and so learn the practicalities of operating in their daily work.
'State of the art'
The Masters in Oncoplastic Breast Surgery has been developed with the support of the Royal College of Surgeons (England), the Association of Breast Surgery and the British Association of Plastic, Reconstructive and Aesthetic Surgeons.
Professor Jerome Pereira, a consultant breast surgeon at James Paget University Hospitals in Great Yarmouth and an honorary professor at UEA, developed the course with Professor Sam Leinster - the pioneer of oncoplastic breast surgery in the 1970s.
Professor Pereira says it is a "state of the art programme" which encourages high levels of clinical reasoning and decision-making through a mix of e-learning, mentoring and assessment.
"At the moment the training of surgeons can be an ad hoc experience. Using this method, surgeons will have to cover the full range of operations," Professor Pereira said.
"It means that in the final three years leading up to them becoming consultants, they will be receiving the highest quality of training in this field anywhere in the world."
Professor Pereira insisted that the practical element of surgical training was not being sacrificed in the online course.
"We are supplementing programmes, not taking anything away."
By learning online, trainee surgeons can do more in their spare time without travelling long distances.
This keeps the costs down and leaves them free to concentrate on their day-to-day NHS work.
'Valuable time'
Simon Hawkins, based at Torbay Hospital in Devon, is a general surgical trainee in the fourth year of his training.
He is one of 17 surgeons who have enrolled on the course.
"It's important to be able to do the coursework when I want to, when I've got the time because there are no prescribed timetables," he says.
The last thing he wants to do, he says, is spend valuable training time travelling to London and back to attend multiple training sessions at the Royal College of Surgeons.
Moreover, the course focuses on a crucial and developing area of interest - breast reconstruction.
"Reconstructive services are becoming more important so this has come at exactly the right time for me as I start to think about consultant positions," he says.
Fiona MacNeill, oncoplastic breast surgeon at the Royal Marsden Hospital in London, who is also chair of the education and training committee for the Association of Breast Surgery, calls it a "unique course".
"Oncoplastic surgery is about ensuring that any surgery on the breast leaves the woman looking as good as possible rather than just chopping the problem out," says Dr MacNeill.
This is true whether the surgeon is removing a small cancer or undertaking a mastectomy, she says.
"It's a highly structured training program for plastic surgery. It is built on the practical aspects of training which trainee surgeons are already getting, thereby maximising the work they do in local hospitals."