Fears over five-year doctor checks system
By Nick Triggle
Health reporter, BBC News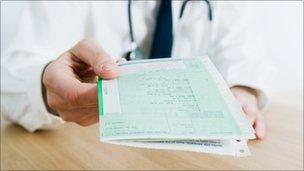 The NHS must up its game to ensure the formal system of doctor checks can start at the end of next year, MPs say.
Currently medics can go for their whole career without facing any assessment of their competency after qualifying.
Plans were first mooted in 2000 to rectify this and the idea now is to start five-year revalidations in 2012.
But the House of Commons' health committee said despite the years of preparation there were still flaws in the plans which needed resolving.
In particular, the cross-party group of MPs said there had been little attention given to how to deal with poor performing doctors.
They said the General Medical Council, which will oversee the revalidation process, needed to issue clearer guidance.
It also said the annual appraisal system, which will underpin the checks, was unsatisfactory.
It said in some parts of the NHS it was not happening at all, while in others it was not taken seriously enough.
MPs were told of one case where a GP appraisal consisted of a discussion about a walking holiday.
The report said the issue of dealing with doctors who cannot speak good English needed to be resolved too. There has been conflicting views about whether the GMC is able to take this into account.
But the health committee said the regulator needed to address the issue and if it could not take language skills into account it should "say so publicly and tell Parliament what needs to be done".
The reforms are designed to help protect patients from scandals such as the Shipman case.
Dr Harold Shipman, a GP from Hyde in Greater Manchester, murdered more than 200 people over a period of 23 years after his work went largely unchecked.
Under the new system, doctors will be expected to demonstrate they meet clinical standards and have kept up to speed with the latest developments in their field, while appraisals will include feedback from patients and colleagues.
Audits of how patients fare after seeing their doctor will also be included, alongside a requirement to ensure there are no causes for concern in how a doctor works.
GMC chief executive Niall Dickson agreed there must be no delay in the introduction of the new system.
"We are working on a number of other fronts to make sure revalidation is fit for purpose."
On the issue of language testing, he said the GMC was working with the Department of Health to resolve the situation.
Related Internet Links
The BBC is not responsible for the content of external sites.