Study highlights medical split on breast cancer surgery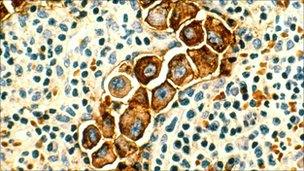 Removing cancerous lymph nodes from some women with breast cancer has no benefit, US scientists have revealed in a new study.
But while the findings may have been hailed in parts of the media as a revolutionary approach to combating breast cancer, it has also revealed divisions among cancer specialists in the UK on how best to treat the disease.
While some hope the study will bring widespread change to practice - some UK units already operate a less surgically-agressive approach - others urge caution about the findings.
The study, published in the Journal of the American Medical Association, found that in women with early stage cancer the standard practice of removing cancerous nodes made no difference to survival rates.
They also found that carrying out the painful procedure - which can leave women with lasting arm swelling, stiffness and pain - made no difference to whether cancer returned.
The study, which involved about 850 women, follows a trend away from radical surgery in combating breast cancer in recent years.
Rates of mastectomy (the removal of the breast) are declining, but the removal of nodes as a way of preventing the spread of cancer, has remained standard procedure, particularly in the US.
All those taking part in the clinical trial, between 1999 and 2004, had had initial biopsies showing cancer had spread to one or two nearby lymph nodes.
They were then assigned at random to have 10 more more additional nodes removed or none at all.
They were also treated with lumpectomies to remove their tumours and a common type of radiation that covers the breast and underarm area. Most also had chemotherapy, hormone treatment, or both.
The researchers were led by Armando Giuliano of Saint John's Health Center, in Santa Monica, California.
Professor Ian Ellis, professor of cancer pathology at the University of Nottingham, said the study was "very powerful" and had been conducted in an "exemplary way".
"You can't knock it, it should be practice changing," he said, but acknowledged units in the UK were very "polarised".
"It sometimes takes more than one study to change people's minds. In the UK doctors are a little bit conservative, they want more evidence."
He said a trial of 3,000 women conducted in Edinburgh about 15 years ago, and which produced similar results, had failed to change practice across the UK, but that this study vindicated his unit and others'.
"This shows centres doing less aggressive therapy were correct in their approach."
Dr Rachel Greig, senior policy officer at Breakthrough Breast Cancer charity said the findings were "exciting", particularly as they corroborated past findings, but was cautious on how quickly practices would change.
"They could change the way some women are treated for breast cancer in the future," she said.
"This is important as it may mean these women can avoid unnecessary lymph node surgery. The findings agree with past research so we eagerly await further developments in this area."
Professor Michael Baum, retired breast surgeon and director of the clinical trials group at University College London, said he was amused at the research.
"What they are doing is reinventing the wheel," he told the BBC. "I have been preaching this for decades."
"We have known for 20 years or more that leaving an untreated lymph node behind that contains a tumour does not impair long-term survival."
However, he said, the study would be influential in changing practice and patients would benefit.
But Professor Robert Mansel, professor of surgery at University of Wales College of Medicine, Cardiff, and expert in breast cancer research, said it was a very controversial area with a lot of practice "based on feelings, not data".
He currently favours the removal of lymph nodes, believing the research on leaving them intact to be inconclusive so far.
He urged caution about the US study, pointing to "lots of warning signs" in the paper, such a failure to recruit as many women to the study as they would have liked - meaning the trial was "under powered".
When faced with the prospect of lymph nodes not being removed, a lot of patients failed to enter the trial, he said.
He also pointed to the study's five-year follow-up, which he said was quite short.
"Breast cancer, if nothing else, is a long-term disease, which makes this study only half way to being reliable".
On the differences of opinion in the field, he said: "We are using the same evidence, but interpreting it differently."
"It's a classic problem in cancer management; we don't have the answer."
He said a European trial, Amaros, which he is heading and is due to publish its results like year, would be more likely to change practice.
Like the US trial, this trial takes an initial biopsy, but it then gives radiotherapy to the remaining nodes to see if this is in fact enough and there was no more need for surgery.
"We are on the cusp of finding out the information, but there isn't enough of it. If you make changes before you have the data that you can get a shock. Nobody is right or wrong, it's a philosophy.
"When Amos reports hopefully we should get a definitive answer.
"We may well change practice, but it's going to take two or three years before we can say definitively one way of another."
Related Internet Links
The BBC is not responsible for the content of external sites.