How safe is cosmetic surgery?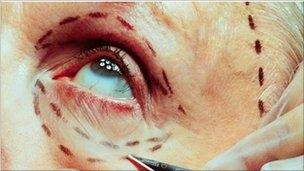 Cosmetic surgery is becoming increasingly popular - there are now around 100,000 operations in the UK each year.
But for those tempted to improve their looks surgically, how safe are the procedures?
Claudia Seye Aderotimi's tragic death in Philadelphia this week followed an operation using an unapproved substance.
Liquid silicone was injected into her buttocks in a procedure designed to enhance her bottom.
The operation is believed to have been arranged over the internet and took place at a hotel near Philadelphia International Airport.
But now that cosmetic surgery is becoming more common, are the risks associated with even standard procedures being under-estimated?
Last September, a report by an official review body, the National Confidential Enquiry into Patient Outcome and Death found many centres in the UK offering cosmetic surgery were failing to assess and care for patients properly.
Patients were at risk from a culture which saw teams "have a go" at operations they rarely performed.
With the exception of breast enlargement operations, the majority of sites were not carrying out enough procedures to keep their skills up.
To be safe, sites should be carrying out more than 20 operations a year - in order to give them enough experience.
But only a fifth had managed this for breast reductions and a quarter for facelift.
Other problems identified by the report included psychological evaluations often not being carried out, and more than half of the operating theatres not being properly equipped.
Monitoring before and after treatment was also not sufficient in many cases.
Last October, the Care Quality Commission (CQC) was put in charge of regulating the cosmetic surgery industry in England.
All independent clinics and hospitals that provide cosmetic surgery must be licensed with the CQC to provide services.
A spokeswoman for the CQC said that even with enhanced regulation, patients should take care.
"Cosmetic surgery of any sort should not be undertaken lightly. It's important to remember that all surgery, including cosmetic procedures, involves risks."
She advised would-be patients to find out as much as they can about the provider and the procedure.
The CQC now has the powers to fine and prosecute cosmetic surgery centres that are not up to standard and gives advice on its website for people considering cosmetic surgery.
Plastic surgeons should also be registered with the General Medical Council (GMC).
The British Association of Aesthetic Plastic Surgeons (BAAPS) represents around a third of cosmetic surgeons in the UK.
Its president, Fazel Fatah, said that problems arose because of the attitude towards cosmetic surgery.
"It has become trivialised to the extent that people do not understand that they are having surgery - and undergoing the same risks as with any other operation."
He said that the boundaries between cosmetic medicine and cosmetic surgery had become blurred and that people now believed that cosmetic surgery was somehow simple.
However good surgeons should go through all the risks with any patient, and give them time to change their mind.
"Complications can include infection, bleeding, thrombosis and clotting of the veins," Mr Fatah said. "A patient needs to weigh-up the benefits against the risks."
Some cosmetic surgical procedures are more risky than others. As with other surgery, longer operations that involve a general anaesthetic are more risky than those that need only a local anaesthetic.
A tummy-tuck is one of the surgical procedures which has higher complication rates because mobility is restricted after surgery.
The buttock augmentation procedure that Ms Aderotimi had is not very common in the UK, though there are some surgeons who perform the operation.
However, the liquid silicone with which she was injected is not used here as surgeons realised years ago that it could cause problems. Solid silicone implants are now used instead.
Cosmetic surgery 'holidays'
However, going abroad for treatment has become an increasingly popular option over the years as it can be cheaper.
But surgeons warned it could also be riskier.
A survey by BAAPS in 2009 found that a quarter of surgeons said they had seen an increase in the numbers of patients who had experienced complications stemming from cosmetic surgery "holidays".
The organisation advises anyone thinking of going for surgery abroad to think carefully and beware of internet sites offering to set up patients with surgeons.
Fazel Fatah said quality standards in the UK, set by the CQC were high, but this was not the case in all countries.
"If you go abroad for surgery it is much harder for you to research a surgeon's record or the safety of the hospital you will be visiting, even if they are members of that country's association of surgeons.
"Aftercare will also be much harder - it can take weeks, even months for someone who has had cosmetic surgery to realise that there is a problem. By that time they are back home again."
Related Internet Links
The BBC is not responsible for the content of external sites.