Council cuts 'put more pressure on the NHS'
By Nick Triggle
Health reporter, BBC News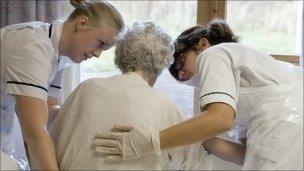 The NHS will have to deal with the fall-out from some of the cuts being announced by councils, experts predict.
Health bosses, public health chiefs and charities told the BBC the close working relationship between the two meant consequences were "inevitable".
They said elderly care, mental health and services for vulnerable young people were the most at risk.
Some fear hospitals could get clogged with extra patients due to the cuts.
There has been a raft of announcements by councils in the past week. Services being cut include leisure services, day centres, social care support and youth services.
Most expect this to be just the start of a series of savings local government has to make after the announcement in autumn's spending review that its funding is to be cut by a quarter in the next four years.
But now those working in NHS have warned the impact of these cuts will also be felt in the heath service.
Hospitals getting clogged with patients who cannot be discharged into the community because of cuts to social care support
Child mental health services suffering as school counselling services are withdrawn
Healthy lifestyle drive affected by closing leisure centres and swimming pools
Falls in spending on support for vulnerable young people, including drug abuse and teenage pregnancy services, could see progress stall
Increased hospital admissions because of cuts to community schemes such as day centres and falls prevention services
Dr Frank Atherton, president of the Association of Directors of Public Health, said he was "very concerned" as local government and the NHS often work hand-in-hand in areas such as public health, elderly care and mental health.
"When budgets get tight there is always a risk that partnership working suffers. Local government has an important role in supporting people in the community and without that their problems get worse and the NHS has to step in."
Stephen Lowe, from Age UK, said community services for the elderly played an important role in stopping people's conditions deteriorating and ending up in hospital.
"Without these services people can go down-hill very quickly and end up in hospital. That is not good for the individual but is also more expensive as well."
Nigel Edwards, head of the NHS Confederation, which represents managers, agreed, pointing out that as well as increasing admissions, cuts could increase bed-blocking - cases where a patient is ready for discharge but unable to be released because of the lack of services available in the community.
"It is inevitable if you cut services that help people live independently in the community there will be a knock-on effect for the NHS."
But he added the cuts in services such as leisure centres could also have a long-term effect on issues such as obesity which would again rebound on the health service.
Services for young people are also under threat.
The Department of Health only recently announced extra funding for mental health services, but because these are jointly funded by local government for children there are reports of cuts in some places.
Youth Access, an umbrella group for counselling and advice services, said schemes in places such as Newcastle, Manchester and London were already under threat.
Other youth services funded by local government, including teenage pregnancy and drug abuse, are also facing an uncertain future after the Department for Education announced funding for such projects will be cut by 10% next year.
Lucie Russell, of the charity Young Minds, said: "There is real concern. Some of these cuts are short-sighted and are just going to see people develop more serious problems which are then more expensive to treat."
But a Department of Health spokeswoman said the NHS should be able to cope. For social care, she pointed out that despite the overall local government cuts the department had earmarked an extra £2bn by 2014.
"On top of this, we've also given £162m to PCTs, specifically for immediate spending on social care services that also benefit the NHS. This will kick-start more joint working between councils and the NHS."
She also said ministers would be looking for even more joint working between the two sectors in the coming years.
She added: "This means, with an ambitious programme of efficiency, that there is enough funding available both to protect people's access to services and deliver new approaches to improve quality and outcomes."
Related Internet Links
The BBC is not responsible for the content of external sites.