Doctors would 'bypass NHS sexual health vaccine'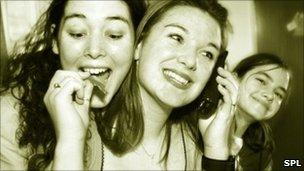 Nine out of 10 specialists working in sexual health would give their daughters a private vaccine rather than use the NHS one, according to a survey.
The British Association for Sexual Health and HIV (BASHH) questioned 520 sexual health professionals in the UK.
They are concerned that the NHS cervical cancer vaccine does not also protect against genital warts.
But the Department of Health said its vaccine "offered the NHS best overall value".
Schoolgirls aged 12 to 14 are currently offered a vaccine called Cervarix to protect them against cervical cancer.
This is effective in protecting against cervical cancer, as is the vaccine that the clinicians questioned in the survey would prefer.
The alternative vaccine, called Gardasil, also protects against the virus that causes genital warts. It is 90% effective against that virus and also protects against warts on the vocal cords.
In all, 93% of the clinicians who were questioned said they would pay privately for their daughters to have Gardasil or would advise their friends to do the same.
Of those who actually had daughters in the school vaccination programme, 61% had paid for their daughters to be vaccinated with Gardasil rather than Cervarix and some had given Gardasil after their daughters had already had the other vaccine at school.
Each year, 91,000 cases of genital warts are diagnosed and 70,000 receive repeat treatment. The highest rates of diagnoses are among women aged 16 to 19 and men aged 20 to 24.
Cervarix is cheaper than Gardasil.
A Department of Health spokesperson said the vaccine was cost-effective and protected against several strains of cervical cancer: "The department chose Cervarix for the national HPV immunisation programme against cervical cancer as it offered the NHS best overall value."
When the school-based programme was introduced in 2008, it was agreed that the programme itself, and the vaccine used in the programme, would be reviewed after three years.
The government will decide in April which vaccine to use once the Cervarix contract finished.
The Department of Health said it would take into account data on the potential protection provided by vaccines against genital warts as well as cervical cancer and other related cancers when looking at which vaccine to procure next time.
Related Internet Links
The BBC is not responsible for the content of external sites.