'Pedal while we work' idea raised by scientists in US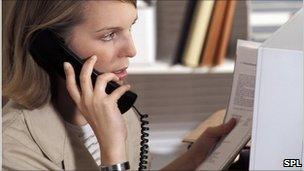 Portable pedal machines could be used in every office to improve the health of workers, according to scientists in the US.
The researchers, writing in the British Journal of Sports Medicine, said sedentary lifestyles were a serious health problem.
They argue that small exercise bikes could be a cheap solution.
Charity Weight Concern said improving the health of workers would also benefit employers' bottom lines.
Hours spent sitting a desk staring into a computer screen is not an alien experience for many office workers.
Physical inactivity has been linked to obesity, heart disease and diabetes.
Previous attempts at increasing the health of workers have involved hooking a treadmill up to an office computer.
Now researchers at East Carolina University are investigating mini exercise bikes, which can be used while sitting at a desk.
During a small study with 18 workers, they assessed how feasible it would be for the bikes to be introduced.
On average, the workers each used the machine on 12 out of the 20 days of the study and pedalled for 23 minutes at a time.
In a questionnaire, the workers said they would use the machine regularly at work if they were offered one by their employer.
The researchers said: "Portable pedal machines may serve as a tool to reduce sedentary times in the work environment without necessarily influencing the sitting time necessary for performing computer-related tasks."
The authors note that the novelty factor of having an exercise bike did wear off so additional motivation would be needed to keep employees using them.
Dr Ian Campbell, of Weight Concern, said: "It's increasingly being recognised that employers have an opportunity to provide options for staff to become more active during the working day.
"In principle this is a good idea, and relatively inexpensive. If used regularly not only would individuals benefit, but employers would see reduced absenteeism and improved performance and job satisfaction.
"However, it's not for everyone and I was concerned that, not surprisingly, use of the pedal machine decreased gradually over the one month trial period as enthusiasm waned."
Related Internet Links
The BBC is not responsible for the content of external sites.