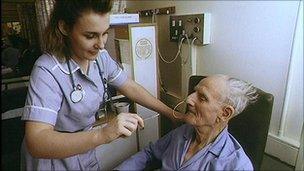 The Health Service Ombudsman which deals with serious complaints against the NHS, found that after carrying out an in-depth review of 10 cases, patients - aged over 65 - suffered unnecessary pain, neglect and distress.
BBC News website readers have been speaking about their experiences of elderly care in hospital.
Julie Appleby, carer and former RAF medic, Wrexham, North Wales
My father was admitted to hospital several years ago and sadly went into a coma two days later - not the fault of the hospital.
However I could see that there was not enough staff on the ward and that really concerned me. So I decided to stay with him for the two weeks at the hospital - sleeping at night on a chair at his bedside - until he sadly died.
The lack of basic care was rife not just with my father but with other patients too.
I used to help out some of the other patients on a regular basis by handing them water, helping them to eat, and just helping them to get off the bed onto a chair.
None of the staff said anything about my helping the patients because they weren't around a lot of the time.
It was extremely upsetting as I have worked in the NHS myself and it all seems to have gone downhill and backwards.
Basic cleaning was another problem I saw. When I worked in this environment as an RAF medic in the 80s, there was a basic daily cleaning regime.
This was not done for the whole two weeks I was at the hospital.
After my father passed away, I even felt guilty that I was leaving the other patients on the ward.
Keith Kettlewell, former NHS nurse, Bristol
I was a hospital nurse for 42 years until I retired. I trained as a state-registered nurse and a state-registered psychiatric nurse.
When I started nursing there was an ethos of care in the very bones of the nursing profession. It was in the culture of the old nursing profession that care was really from cradle to grave. Everyone was treated as human beings, with respect.
Nowadays, the main problem with elderly care is nearly always the nursing staff, and not with the actual medical attention they receive.
At some stage, the attitude amongst youngsters changed about a generation ago. It has been my experience that many young nurses do not find elderly patients "attractive" and will avoid them if they possibly can.
There are some wonderful, caring, intelligent people working for the NHS who will help older people, but what bothers me is that there is a significant number who don't. These people have so much power in their hands, they can inflict untold misery - physically, mentally, emotionally.
So I wasn't shocked at all about these findings - I've known this for the last decade but I always felt like I was like a voice crying in the wilderness.
I think we really need to recognise that there is a problem, and not try to pretend that it's not there. We have to face up to the facts.
Tracey Chilton, former hospital cleaner, Staffordshire
I was a cleaner on some of the hospital wards, mainly the geriatric ward, at a local hospital in the 1990s.
I could tell that a lot of the staff were run off their feet, but much of the lack of care was down to attitude. I saw nurses hanging around the nursing station, chatting and laughing, while patients were in need of help. I got really frustrated seeing this.
I witnessed neglect and suffering with some of the patients on some of the wards, especially the more vulnerable who were not able to do a lot for themselves.
I would serve tea and coffee to the patients on the ward, go on my break for half an hour and come back to find most of the patients had not had any assistance to have a drink or even something to eat.
It was very distressing to me and I even challenged some of the nursing staff at the time but did not feel I was being listened to.
I didn't go higher up about it because I was young and I didn't know who to talk to, and I didn't want to rock the boat.
I used to go home feeling terrible thinking about those people who did not have the care and support they deserved.
I am now supporting vulnerable adults and manage a team of staff in the Midlands and ensure that the best support is delivered to the individuals we support.
But I find it unbelievable that even now, the lack of care for the elderly in hospital is still going on.
Davida Hamilton, daughter of an elderly patient, West Yorkshire
My 86-year-old mother had two falls in the space of two months with very different care experiences.
The first hospital was fantastic. The care was exemplary for us all - patient and family. The auxilliary nurses on the ward kept patients well nourished and even well groomed.
I found that the ward was a very cohesive unit, and it was absolutely spotless. Also, the junior doctor was very approachable. It was just a well-run team.
However, the second time we had to take my mother to hospital it was a different story.
We took her to accident and emergency, at a different hospital, and she was left on a trolley for hours, with no glass of water or even a biscuit offered despite her diabetes.
I'm not surprised by the ombudsman's findings, but I think it's all about good management.