NHS 'failing to treat elderly with care and respect'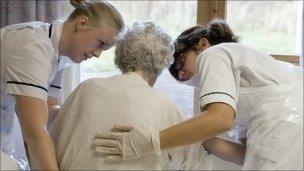 The NHS is failing to treat elderly patients in England with care, dignity and respect, an official report says.
The Health Service Ombudsman came to the conclusion after carrying out an in-depth review of 10 cases.
The ombudsman, which deals with serious complaints against the NHS, said the patients - aged over 65 - suffered unnecessary pain, neglect and distress.
Charities said the findings were "sickening", while the government admitted improvement was needed.
Of nearly 9,000 complaints made to the ombudsman last year, 18% were about the care of older people. In total, it accepted 226 cases for investigation - twice as many as for all the other age groups combined.
The report concluded there was a gulf between the principles and values of the NHS and the reality being experienced by older patients.
And the ombudsman, which is called in once a complaint cannot be resolved by individual NHS trusts, said the fact there was an ageing population made it even more essential that the concerns were dealt with.
Several themes became clear from the ombudsman's analysis. Half the people featured did not consume adequate food or water during their time in hospital.
Some were left in soiled or dirty clothes. One woman told the ombudsman how her aunt was taken on a long journey to a care home by ambulance.
She arrived strapped to a stretcher and soaked with urine, dressed in unfamiliar clothing held up by paper clips, accompanied by bags of dirty laundry, much of which was not her own.
Communication was also highlighted as a problem with one 82-year-old woman recalling how, on being discharged from hospital after minor surgery, she was frightened and unsure of how to get home.
She asked the nurse to phone her daughter, but was told "this is not my job".
In another case, a cancer patient wanted to be discharged to die at home. When his daughter arrived to collect him, she found him sitting behind a closed curtain in distress.
He had been left for several hours in pain and desperate to go to the toilet. He was unable to ask for help because he was so dehydrated that he could not speak or swallow.
Ann Abraham, the Health Service Ombudsman, said the accounts painted a picture of NHS provision that was "failing to meet even the most basic standards of care".
"These often harrowing accounts should cause every member of staff who reads this report to pause and ask themselves if any of their patients could suffer in the same way."
Michelle Mitchell, of Age UK, said: "The inhumane treatment of older people described in this report is sickening and should send shockwaves through the NHS and government."
And Katherine Murphy, chief executive of the Patients Association, added the report echoed the findings of research her group had done.
"How many reports do we have to have before anything will change and patients will stop suffering?"
Nigel Edwards, chief executive of the NHS Confederation, which represents NHS trusts, said the cases highlighted were "completely unacceptable".
But he added: "It is of course important to put these 10 examples in perspective. The NHS sees over a million people every 36 hours and the overwhelming majority say they receive good care."
Care services minister Paul Burstow agreed, but acknowledged standards still needed to improve.
"We need a culture where poor practice is challenged and quality is the watchword. The dignity of frail older people should never be sidelined."
He said the government's reforms of the NHS would strengthen the voice of patients.
Related Internet Links
The BBC is not responsible for the content of external sites.