Hospitals to be told to 'stop child heart surgery'
By Nick Triggle
Health reporter, BBC News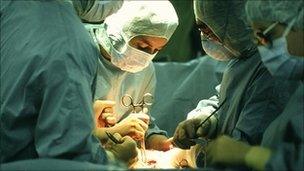 Child heart surgery will stop at some hospitals to ensure patient safety under official plans put forward.
The NHS review looked at all 11 units in England amid concern expertise was being spread too thinly.
It has proposed four options - all of which involve stopping operations at either four or five hospitals.
The proposals will now be put out for public consultation. A final decision will be made in the autumn.
But it could be 2013 before all the units finally stop doing surgery.
Although, one of the 11 - Oxford's John Radcliffe Hospital - has already stopped. The decision came after several deaths there last year.
In total, there are just 31 child heart surgeons across England. Between them, they carry out 3,600 operations each year on children in England and Wales, born with a range of heart defects.
Most children survive to adulthood, but there is widespread agreement among professional bodies that to provide a uniformly high quality of safe service, operations must be concentrated in fewer, larger centres.
This would enable surgeons to improve skills and share expertise.
Concerns have been raised about child heart surgery ever since the Bristol scandal in the 1990s when children having heart surgery died needlessly.
Professor Roger Boyle, the government's heart and stroke tsar, said he had "no doubt" that change was necessary.
"Unfortunately the answer is not recruiting more surgeons to the current centres. That would be a recipe for disaster as surgeons would not treat enough children to maintain their skills."
The changes have also received the backing of doctors. A joint statement from the Royal College of Surgeons and the Society of Cardiothoracic Surgery said: "England has the right number of heart surgeons treating rare heart conditions in children, but we know that they are thinly spread over too many units.
"A better service would be provided if this expertise were condensed in fewer units with the critical number of staff to support each other, disseminate new techniques and train the next generation of specialists."
Anne Keatley-Clarke, chief executive of the Children's Heart Federation, which represents parents, said she agreed.
"The majority of parents recognise that paediatric cardiac surgery is a specialist service that is best delivered on a national basis. So they support the concept of larger, but fewer centres of excellence and are willing to travel substantial distances for their child's surgery."
Nonetheless, local groups of opposition involving parents and MPs have started voicing criticisms about the prospect of losing local services.
The review, set up by the National Specialised Commissioning Group, which is in charge of child heart units, recommended a minimum of four surgeons per unit, which means at least four hospitals will stop doing operations.
The 11 units under review are: Alder Hey in Liverpool, Birmingham Children's Hospital, Bristol Royal Hospital for Children, Evelina Children's Hospital in London, Freeman Hospital in Newcastle, Glenfield Hospital in Leicester, Great Ormond Street Hospital for Children in London, Leeds General Infirmary, Oxford's John Radcliffe Hospital, Royal Brompton Hospital in London and Southampton General Hospital.
All four options on the table involve hospitals in Birmingham, Liverpool's Alder Hey and Bristol continuing to do surgery along with two in London. Of the three sites in London, it seems certain Great Ormond Street will keep operating because of the other specialist services it has there.
Stopping surgery does not mean the whole heart unit closes as they will still see patients for diagnosis, monitoring and non-surgical treatment.
The review's recommendations were accepted for consultation at a meeting on Wendesday of a special committee representing primary care trusts.
The review does not apply to Scotland, where all children's heart surgery is carried out in Glasgow.
Children from Northern Ireland have to travel to Dublin for surgery.
Children in Wales travel to England for surgery.
Newcastle, Liverpool, Leicester, Birmingham, Bristol plus two in London
Newcastle, Liverpool, Birmingham, Bristol, Southampton plus two in London
Newcastle, Liverpool, Birmingham, Bristol plus two in London
Leeds, Liverpool, Bristol, Birmingham plus two in London
Related Internet Links
The BBC is not responsible for the content of external sites.