Brain and body training treats ME, UK study says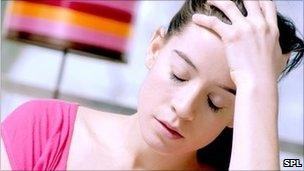 Chronic Fatigue Syndrome, also known as ME, should be treated with a form of behavioural therapy or exercise, say British scientists.
Writing in The Lancet, they argue that the approach preferred by some charities, managing energy levels, is less successful.
Action for ME disputed the claims, which it said were exaggerated.
A quarter of a million people in the UK have the condition, yet its cause remains unknown.
Symptoms include severe tiredness, poor concentration and memory, muscle and joint pain and disturbed sleep.
This study looked at which treatments were the most successful. It compared CBT (cognitive behavioural therapy - changing how people think and act), graded exercise therapy - gradually increasing the amount of exercise, and adaptive pacing therapy - planning activity to avoid fatigue.
All of the 641 people who took part in the study had chronic fatigue syndrome, but were not bed-bound.
The authors say cognitive behavioural and graded exercise therapies were the most successful, both at reducing fatigue and increasing physical function.
With cognitive behavioural therapy, 30% of patients returned to normal levels of fatigue and physical function.
They say that adaptive pacing therapy is little better than basic medical advice.
Professor Michael Sharpe, co-author of the study from the University of Edinburgh, said: "One of the difficulties in the field is ambiguity, what is the cause and most importantly, what is the treatment?
"The evidence up to now has remained controversial. The helpful thing about this trial is that it actually gives pretty clear cut evidence about effectiveness and safety."
But the charity Action for ME said the conclusions were exaggerated and questioned the safety of graded exercise therapy.
Its CEO, Sir Peter Spencer, said: "The findings contradict the considerable evidence of our own surveys.
"Of the 2,763 people with ME who took part in our 2008 survey, 82% found pacing helpful, compared with 50% for cognitive behavioural therapy and 45% for graded exercise therapy.
"Worryingly, 34% reported that graded exercise therapy made them worse."
The authors suggest that poor advice, such as suggestions to just go to the gym, could be responsible for bad experiences with the exercise therapy.
They said that the amount of exercise needed to be tailored to each person.
The Association of Young People with ME welcomed the findings.
It said it hoped that fears about graded exercise and CBT were laid to rest, and that the study needed to be repeated in children.
Professor Willie Hamilton, GP and professor of primary care diagnostics at Peninsula College of Medicine and Dentistry, said: "This study matters, it matters a lot.
"Up until now we have known only that CBT and graded exercise therapy work for some people. We didn't know if pacing worked. This caused a real dilemma, especially for those in primary care. We didn't know whether to recommend pacing, or to refer for CBT or GET.
"Worse still, not all GPs have access to CBT or GET, so ended up suggesting pacing almost by default. This study should solve that dilemma."
NICE (the National Institute for Health and Clinical Excellence) said the findings were in line with current recommendations.
Dr Fergus Macbeth, director of the centre for clinical practice at NICE, said: "We will now analyse the results of this important trial in more detail before making a final decision on whether there is a clinical need to update our guideline."
Related Internet Links
The BBC is not responsible for the content of external sites.