Cancer care 'lagging behind the best performers'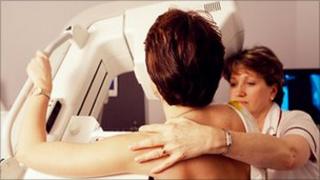 Cancer care in England is still lagging behind the standard it should be in several key areas, MPs say.
The House of Commons' Public Accounts Committee acknowledged there had been progress over the past decade.
But the report raised concerns about variations in performance and whether value for money was being achieved.
The cross-party group of MPs also highlighted the need for more early diagnosis - something the government said it was already looking to tackle.
The MPs said the need for quicker diagnosis was illustrated through the data on one-year survival rates. Much of the focus on measuring cancer treatment has been on five-year survival rates.
But the MPs said it was now time to focus more on one-year rates as 10,000 lives a year could be saved if the "poor" performance was brought up to the standards of the best countries.
They said the key to this was early diagnosis.
Urgent referral
However, they recognised this had already been identified by the government as an issue that needed tackling.
Under plans published in January, more money is being invested to improve access to tests such as chest X-rays, ultrasounds and MRI brain scans over the next four years. A new bowel cancer screening programme is also being rolled out.
But the report also suggested the different approaches taken by doctors was having an impact as there was an eight-fold variation in the number of patients being urgently referred by GPs in some areas.
MPs also raised questions about the lack of data. Only a fifth of primary care trusts assessed whether the services they were paying for provided value for money despite the NHS spending more than £6bn a year on cancer services.
Margaret Hodge, chairman of the Public Accounts Committee, added: "We were surprised that value for money has not been a stronger focus for commissioners, both in securing services to meet the healthy needs of their local population or in assessing the performance of its suppliers."
But despite the criticisms, the report also praised the progress that has been made in recent years, particularly in terms of reducing waiting times.
Care services minister Paul Burstow said: "This report shows exactly why we need to update the NHS. It is unacceptable that our cancer survival rates lag way behind our European neighbours. We are devolving power to GPs who know better than bureaucrats how to improve care for their patients."