New map shows undiagnosed dementia cases across UK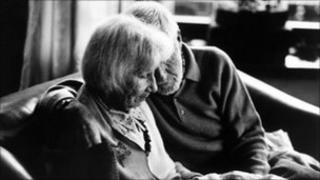 A new 'dementia map' of the UK shows stark variations in the number of people suffering from the disease and those who have actually received a medical diagnosis.
Researchers also predict that more than a million people will suffer from dementia by 2021.
The map shows that Dorset has the lowest rates of diagnosis, with just 26% knowing they suffer from dementia.
But at the other end of the spectrum, in Belfast that figure rises to 69%.
The study was produced by The Alzheimer's Society and Alzheimer's Scotland with the help of the supermarket chain Tesco.
Researchers applied previously established rates of prevalence of dementia to government population estimates.
It then compared those figures to statistics compiled by GPs of people diagnosed with dementia in 2010.
The researchers say their figures show that half a million people are now living without a diagnosis and in 10 years time they estimate that more than a million people will have dementia.
It is not clear what causes the disparity between areas like Dorset and Belfast.
Jeremy Hughes, the chief executive of the Alzheimer's Society, says the 'dementia map' showed some big gaps in rates of diagnosis.
"It's really concerning that six out of ten people with dementia don't have a diagnosis and so can't access the support they badly need.
"Anyone who is concerned about their memory should visit their GP."
The broadcaster Fiona Phillips has seen both her parents diagnosed with dementia and she is now an Alzheimer's Society ambassador.
"It's shocking that so many people are struggling to cope with this devastating illness all on their own.
"If we don't raise awareness of dementia, in ten years time, half a million people will be unable to give their symptoms a name and have no access to the help they so desperately need and deserve."
Ageing population
The figures also show that some regions face big challenges in the future.
For example, Milton Keynes is a rapidly growing area and researchers predict that it will see a 56% increase in people living with the condition.
Care Services Minister Paul Burstow says people need to be encouraged to talk about dementia.
"With our ageing population and the high number of people who never receive a diagnosis for their dementia, the need for raising awareness and encouraging people to seek help has never been greater."
The research was welcomed by Rebecca Wood, Chief Executive of Alzheimer's Research UK.
"It is a great injustice that so many living with dementia never receive a formal diagnosis. Receiving a diagnosis can help families plan for the future and access support services to help maintain quality of life.
"Diagnosis is a crucial component to defeating dementia, helping us ensure we are working with the people who will benefit most when trialling new dementia treatments. We must strive for more accurate diagnosis, and this can only come from research."