Hospital shake-up 'needed to protect patients'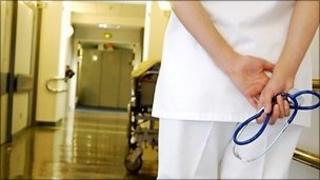 A major shake-up in hospital services - including the closure of some units - is essential in many parts of England to ensure patient safety, experts say.
The Kings Fund said services such as A&E, maternity, neonatal and specialist heart and stroke care needed to be run from fewer sites.
The think tank said without such steps patients could be put at risk.
But it warned the NHS reforms could make it more difficult to get it right - something the government rejected.
'Cold climate'
A Department of Health spokesman said: "We urgently need to modernise the NHS - that is why our plans include many measures to make services more responsive to patients and to consistently drive up quality."
The Kings Fund came up with its conclusions after analysing the handling of an overhaul of hospital services in south-east London.
Under the changes - or reconfiguration as it is called within the NHS - specialist services are being concentrated on fewer sites.
But they are only happening after one hospital was forced to close its A&E and maternity units because of safety fears.
The King's Fund said similar changes were needed elsewhere because of the funding squeeze.
The government has protected the NHS budget by giving it small above-inflation budget rises over the next four years.
But the report said it was still entering a "cold climate" because demands and costs were outstripping the settlement.
It said without change there could be a "downward" spiral of falling income, growing deficit and declining quality.
Scandals such as Mid Staffordshire, where an official report found hundreds of patients died needlessly because of poor care, could not be ruled out.
But the King's Fund raised concern over whether the NHS was going to be able to ensure the right change took place.
It said one of the lessons of its analysis of south east London was that strong management was needed to make the right decisions.
But it warned the forthcoming creation of GP consortia, which will see two layers of management scrapped, meant it was unlikely successful change will take place.
Chris Ham, chief executive of The King's Fund, said: "Our worry is that GPs will be really good at some things - in terms of improving patient care, bringing services back into the surgery closer to home.
"But the more complex issues they are being asked to take on, like improving the quality of hospital care... it's not something GPs, in the past, when they've been given this kind of responsibility, have shown much appetite to undertake or indeed much expertise."
But Health Secretary Andrew Lansley said: "Nobody, even GPs themselves, is saying they are going to do it on their own.
"They are going to sometimes come together in order to create commissioning arrangements that do cover bigger populations. They are going to be doing so alongside local authorities."
"It's not top down versus bottom up. It's a recognition that the NHS consists of two essential parts, one of which is locally, clinically-led decision making, the other is national standards and national support," he said.
Nigel Edwards, of the NHS Confederation, which represents hospitals, said he agreed with the findings.
"There has been too much procrastination for too long on a number of outstanding reconfiguration plans where the case has been made," he said.
British Medical Association's consultants committee chairman Dr Mark Porter said change was necessary, but it needed the backing of doctors.
"We agree that hospital services cannot stand still," he added.
Shadow health secretary John Healey said: "This report adds to the growing view that the government is getting it decisions on the NHS wrong."