Expert guidance to cut death toll of gastric bleeds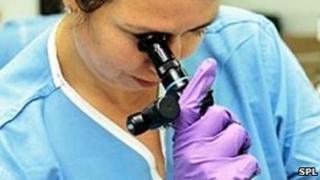 Experts are issuing guidance to stop unnecessary deaths from gastric bleeding, a medical emergency affecting around 30,000 people a year in the UK.
One in 10 die as a result of these bleeds, partly because doctors are unsure about how best to manage them, say six leading medical bodies.
The advice sets out the minimum standards all patients should expect, like urgent investigation to locate the bleed and treatment to stop it.
And it calls for equitable services.
Dr Kel Palmer of the British Society of Gastroenterology (BSG), one of the six organisations behind the guidance, said: "The audit we carried out clearly highlighted that there is a great inequity in service provision across the UK."
He said that while it was understandable that some smaller hospitals might struggle to provide first class services around the clock, they should have plans in place to transfer these most urgent cases to nearby hospitals with the necessary facilities.
"We have defined minimal standards which all patients should expect and defined criteria for safe transfer to hospitals where emergency therapy can be applied," he said.
As a minimum, any patient with a suspected bleed should, within 24 hours of admission, have an investigation called an endoscopy where a flexible tube housing a small camera is guided down into the stomach via the mouth.
And all hospitals should be able to offer life-saving treatments such as interventional radiology or specialist surgery at any time of the night or day, recommend the Academy of Medical Royal Colleges, the Association of Upper GI Surgeons, the Royal College of Nursing, the Royal College of Physicians, the Royal College of Radiologists and the BSG.
Currently, almost half of hospitals lack out-of-hours endoscopy, and interventional X-ray treatments are even less available.
Around a quarter of patients are admitted to units with no relevant surgical team.
And the lack of clarity concerning safe transfer of patients to referral centres where effective treatments are available means a significant number of patients are denied early access to potentially life-saving treatments, say the experts.