'Sleep babies on their back' advice linked to flat head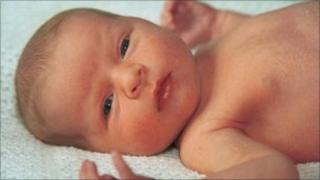 Advice to lie babies on their back for sleep to avoid cot death is having a side-effect - more infants now have a flat head as a result, say experts.
US researchers say the rate of flattened head or plagiocephaly has risen significantly since guidance on the safest sleeping position.
Between 1999 and 2007 the rate increased nine-fold from three to 29 cases per 10,000 live births in Texas.
UK experts say they have also noted a similar trend.
When babies are very young their heads are soft enough to be moulded, which means the shape can be altered by pressure.
Lying on firm mattresses and sitting in car seats and buggies puts pressure on the back of the skull and can lead to a flattened look, say experts.
Since the Back to Sleep campaign in 1994, doctors have recommended that all babies sleep on their backs to reduce the risk of sudden infant death syndrome. As a result, babies now spend much of their early lives lying on their backs.
Some reports suggest that positional plagiocephaly affects around half of all babies under a year old but to varying degrees, according to experts at Great Ormond Street Hospital.
But it is hard to get a true estimate.
Gill Ruff, group administrator for the charity Headlines Craniofacial Support, said: "It's very difficult to get an idea of the numbers.
"People have been reporting more cases. But I don't think it's just sleeping babies on their backs. It's also baby car seats and buggies.
"Babies used to have prams with a softer place to rest their head. Now buggies and car seats are much harder."
She said that although flattened head is merely cosmetic and harmless to the baby, it can cause parents anxiety and distress.
"Obviously, it is important to check that it's just a flat head and not something else that can be more detrimental to a growing child.
"Usually parents notice it when their baby is between five and seven months old.
"Parents start to panic and Google flat head syndrome and come up with places that provide them helmets to treat it.
"But the experts we speak to say it doesn't really need this.
"If you wait for a few months the head will round itself out naturally anyway."
The US experts who carried out the latest study in Archives of Pediatrics and Adolescent Medicine say the high prevalence they observed might be largely due to the recent increased availability of such treatments for flattened head and the readiness of insurance companies to pay for them.