Europe 'losing' superbugs battle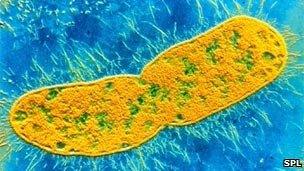 Antibiotic-resistant infections have reached unprecedented levels and now outstrip our ability to fight them with existing drugs, European health experts are warning.
Each year in the EU over 25,000 people die of bacterial infections that are able to outsmart even the newest antibiotics.
The World Health Organization says the situation has reached a critical point.
A united push to make new drugs is urgently needed, it says.
Without a concerted effort, people could be dealing with the "nightmare scenario" of a worldwide spread of untreatable infections, says the WHO.
One example is the New Delhi or NDM-1 superbug recently found in UK patients.
They brought the infection back with them from countries like India and Pakistan, which they had visited for medical treatment and cosmetic surgery.
These superbugs are resistant to carbapenem antibiotics, which is concerning for experts because they are some of our most powerful weapons and are used for hard-to-treat infections that evade other drugs.
The Cardiff University researchers, who made the discovery last August, now say bacteria with this new genetic resistance to antibiotics have contaminated Delhi's drinking water supply, meaning millions of people there could be carriers.
Dr Timothy Walsh and his team collected 171 swabs of seepage water and 50 public tap water samples from sites within a 12km radius of central New Delhi between September and October 2010.
The NDM-1 gene was found in two of the 50 drinking-water samples and 51 of 171 seepage samples.
Worryingly, the gene had spread to bacteria that cause dysentery and cholera, which can be easily passed from person to person via sewage-contaminated drinking water.
"Oral-faecal transmission of bacteria is a problem worldwide, but its potential risk varies with the standards of sanitation.
"In India, this transmission represents a serious problem… 650 million citizens do not have access to a flush toilet and even more probably do not have access to clean water," the researchers warn in the journal Lancet Infectious Diseases.
The scientists are calling for urgent action by health authorities worldwide to tackle the new strains and prevent their global spread.
Zsuzsanna Jakab, WHO regional director for Europe, said: "Antibiotics are a precious discovery, but we take them for granted, overuse and misuse them: there are now superbugs that do not respond to any drugs.
"Given the growth of travel and trade in Europe and across the world, people should be aware that until all countries tackle this, no country alone can be safe."
The UK's Health Protection Agency said it was monitoring the spread of NDM-1 closely.
"The first case of a bacterial infection with this resistance was identified in January 2008. Monitoring of this resistance began in 2009 as more cases were identified."
So far, there have been around 70 cases of the infection recorded in the UK.
The HPA insists that the risk of infection to travellers to the Asian subcontinent who are not treated in hospital is minimal.
"If members of the public are travelling for surgery overseas they should satisfy themselves that appropriate infection control measures are in place," says the HPA.
Related Internet Links
The BBC is not responsible for the content of external sites.