Money woes 'linked to rise in depression'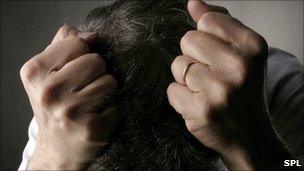 Economic problems may be fuelling a rise in depression in England, it has been suggested.
Prescriptions for anti-depressant drugs such as Prozac rose by more than 40% over the past four years, data obtained by the BBC shows.
GPs and charities said they were being contacted increasingly by people struggling with debt and job worries.
They said financial woe could often act as a "trigger", but added other factors may also be playing a role in the rise.
The rise has happened at a time when the government has been increasing access to talking therapies, which should in theory curb the demand for anti-depressants.
In the last year alone referrals for talking therapies rose four-fold to nearly 600,000, Department of Health figures showed.
Dr Clare Gerada, head of the Royal College of GPs, said some of the rise in prescribing was also likely to be due to increased awareness about the condition and doctors getting better at diagnosis.
But she added: "Of course, in times of economic problems we would expect mental health problems to worsen - and GPs are seeing more people coming in with debts racking up, or who have lost their job and are cancelling their holidays.
"They feel guilty that they can't provide for their family and these things can often act as a trigger for depression."
Mental health charity Sane also said it had seen more people contacting its e-mail and phone advice lines with money worries.
Its chief executive, Marjorie Wallace, said: "It is impossible to say for sure that economic problems are leading to a rise in depression. But we are certainly hearing more from people who are worried where the next meal is coming from, job security and cuts in benefits - many who are getting in touch with us for the first time.
"It is a toxic combination, especially for those who already have darker thoughts and other problems."
Emer O'Neill, chief executive of the charity Depression Alliance UK, said: "There is an increase in the number of people suffering from depression certainly, and the economic downturn has had an impact on that.
"But I think what's happened is that a lot of the stigma has lifted on depression," she told BBC Breakfast.
"It's OK to say you have depression now - and people in general are getting much better information about what it is and they are coming forward and talking to GPs more about it."
Kathryn Hill, from the Mental Health Foundation, agreed there were probably a range of factors at play.
But added: "We know that work and money issues are major sources of stress."
The figures, obtained from NHS Prescription Services under the Freedom of Information Act, cover anti-depressant prescribing from 2006 to 2010, during which time the country had to cope with the banking crisis, recession and the start of the spending cuts.
They showed the number of prescriptions for selective serotonin re-uptake inhibitors, the most commonly prescribed group of anti-depressants, rose by 43% to nearly 23 million a year.
The data also showed increases in other types of anti-depressants, including drugs such as Duloxetine which tends to be used for more serious cases.
As well as increasing demand for help, the rise could also be related to patients staying on the drugs for longer.
Care services minister Paul Burstow said: "The last recession has left many people facing tough times. If people do experience mental health problems, the NHS is well placed to help.
"We're boosting funding for talking therapies by £400m over the next four years. This will ensure that modern, evidence-based therapies are available to all who need them, whether their depression or anxiety are caused by economic worries or anything else."
Related Internet Links
The BBC is not responsible for the content of external sites.