Monkeys 'harbour malaria threat'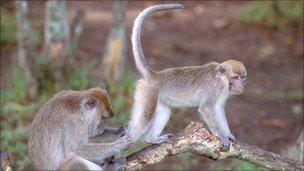 Scientists are warning that a species of malaria could switch from targeting monkeys to humans.
Macaques in south east Asia are a vast source of Plasmodium knowlesi which can spread to people, they write in PLoS Pathogens.
They believe that growing human populations and increased deforestation in the region could lead to the parasite switching host.
But those changes could also reduce the spread of the disease.
Around one million people die each year as a result of malaria.
It is caused by parasites and is spread by mosquitoes when they drink blood.
P. knowlesi is known as the fifth malarial parasite in humans.
It mostly exists in monkeys, however, there have been human cases and it has been shown in the laboratory to be able to spread from human to human.
In south east Asia, the macaques are the second most common primate after humans.
Blood tests on 108 wild macaques showed that more than three quarters were infected with the malaria parasite.
Professor Balbir Singh, from the Malaria Research Centre at Universiti Malaysia Sarawak, told the BBC: "they are a huge reservoir of Plasmodium knowlesi."
Genetic analysis showed that P. knowlesi had existed in monkeys since before humans settled in south east Asia. The researchers said humans were being infected from the 'reservoir', rather than the disease spreading between humans.
Prof Singh raised concerns about what could happen in the future: "We don't know how mosquito behaviour will change.
"With increasing human populations and deforestation we may get a shift to humans. The number of malaria cases is coming down so there is also decreased immunity. Or would deforestation reduce numbers? It could go either way."
Dr Hilary Ranson, from the Liverpool School of Tropical Medicine, said: "It seems a very reasonable thing to speculate.
"Deforestation or any perturbation of the ecosystem frequently leads to humans being exposed to an expanded range of biting insects and the pathogens they transmit, yellow fever is a good example of this."
She said if humans catch the parastite more often then P knowlesi may evolve to target humans.
"To me the important message is that disruption of the environment exposes people to a range of known and potentially unknown pathogens transmitted by blood feeding insects that do not typically feed on humans" she added.
Related Internet Links
The BBC is not responsible for the content of external sites.