Worrying levels of iodine deficiency in the UK
By Michelle Roberts
Health reporter, BBC News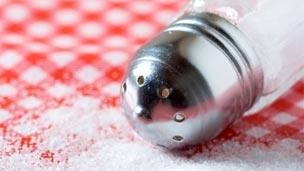 Researchers are warning iodine deficiency could be becoming endemic in the UK and are suggesting manufacturers should start adding it to table salt.
A study involving more than 700 teenage girls at nine UK centres found more than two-thirds had a deficiency.
Experts say the problem stems from children drinking less milk, which is a common source of iodine.
Women of childbearing age are most at risk - even mild deficiency can harm a baby's developing brain.
Iodine deficiency is the most common cause of preventable mental impairment worldwide, affecting a third of the world's population. It also causes thyroid problems.
Since 1993 the World Health Organization (WHO) has conducted a global programme of salt iodisation to boost dietary levels and prevent deficiency, largely in the developing world.
Many European countries, including Switzerland and Denmark, have also signed up to the WHO programme.
In the UK, however, it is not compulsory for manufacturers to add iodine to salt.
Dr Mark Vanderpump, who conducted the latest study on behalf of the British Thyroid Association, says this "could be the most viable solution".
The study measured the urinary iodine levels of 737 teenage girls from nine UK centres - Aberdeen, Belfast, Birmingham, Cardiff, Dundee, Exeter, Glasgow, London and Newcastle.
Nearly 70% of the samples revealed an iodine deficiency and nearly a fifth (18%) of samples showed very low iodine levels, below 50μg/L rather than the acceptable minimum of 100μg/L.
The researchers say a large-scale investigation into the iodine status of the entire UK population is now needed to understand the full extent of the problem.
Dr Vanderpump told a meeting of the Society for Endocrinology: "Our data suggest the UK is now iodine deficient, warranting a full investigation of the UK iodine status. We need to look into this now to decide whether public health bodies need to step in."
He said, historically, half of our dietary iodine intake has come from milk. "One cup of milk gives you about 50% of your daily iodine needs.
"And tests on milk show that its composition has not really changed, so it must be that children are drinking less milk than before. That's what we suspect."
He said the phasing out of free milk for school children had not helped matters. Currently in the UK, free milk is only offered universally to the under-fives.
Dr Vanderpump, a consultant physician at the Royal Free Hampstead NHS Trust, said it was time to look at adding iodine to dietary salt.
"The World Health Organization has made iodine-deficiency a global priority and has been campaigning for at-risk countries to add iodine to their salt, a campaign which has been very successful.
"If it turns out that we do have a problem, this could be the most viable solution."
Cathy Collins, a spokeswoman for the British Dietetic Association, said it might be simpler to target teenage girls and advise them to drink more milk and eat more of other foods rich in iodine, such as seafood.
"I'm not surprised by the findings because teenage girls do not tend to drink a lot of milk or eat a lot of oily fish.
"Getting girls to have a bit more of these in their diet might help, or taking a multivitamin every day would give them 100% of the iodine they need."
She said it was unclear whether other age groups were also deficient, but said it was likely that many people were not getting as much as they ideally need.
A Department of Health spokesman said: "We monitor the nutritional status of the population through a rolling programme of diet and nutrition surveys. We keep track of emerging research and will consider the need for assessing iodine status through urinary analysis in future surveys."
Related Internet Links
The BBC is not responsible for the content of external sites.