Dentists switch to new pay system based on 'quality'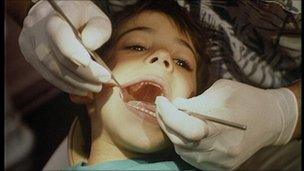 Dentists in England will be paid for the quality of the treatment they give rather than the quantity from this summer, the government has confirmed.
It says 62 dental practices have been selected to trial a new dental contract that will replace the one brought in by Labour in 2006.
Under the existing system, dentists provide and are paid for a set number of courses of NHS treatments.
Under the new system dentists will be paid per patient, not per treatment.
The aim, says the coalition government, is to get dentists away from the "drill and fill" culture where payments are tied to treatment targets.
Instead it wants dentists to work with patients to prevent ill-health and promote good oral health, while being accountable for the quality of the services they provide.
The government says the new system will mean dentists are fairly rewarded through "weighted capitation funding" for the patients they take on, and motivated to provide the best clinical care through financial incentives to improve quality and clinical outcomes.
And it will restore the formal right for patients to be registered with a dentist - something that was removed by the 2006 contract.
Currently, no-one in England has the right to return to a dentist if there is no space for them, no matter how long they have been treated by that dentist in the past.
Official NHS statistics show that more than one million fewer patients visited an NHS dentists in the two years after the introduction of the 2006 contract than the two years before.
If successful, these pilots will pave the way for the introduction of the new contract in April 2014, after the required approval by Parliament.
Health Minister Lord Howe said: "This approach is not only better for patients, but also a better use of NHS resources.
"It is important that we take our time to get this absolutely right.
"We want our reforms to give dentists the encouragement they are looking for to provide a service that meets the needs of today's population, and which fosters positive habits from an early age."