Type 2 diabetes 'cut' after weight-loss surgery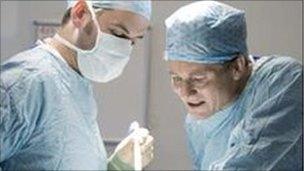 The UK's first large-scale study on the impact of weight-loss surgery has reported a large reduction in type 2 diabetes and other health problems.
The National Bariatric Surgery Registry said type 2 diabetes fell by 50% and on average patients lost nearly 60% of their excess weight a year after surgery, based on 1,421 operations.
The Royal College of Surgeons says the NHS should prepare for rising demand.
Ministers say it is up to the local NHS to provide weight management services.
The report says the world has been engulfed by a pandemic of obesity. In the UK, it says there are about one million people who could benefit from bariatric surgery - which includes gastric bypasses and gastric bands.
Out of an estimated 10,000 such operations carried out in the UK during the financial years 2008/09 and 2009/10, the audit looked at 7,045.
The report includes detailed one-year follow up data for 1,421 operations. Of these, 379 patients had type 2 diabetes before surgery, while one year later that figure had fallen to 188.
There were also improvements in blood pressure and in everyday tasks such as climbing stairs.
The authors argue that by reducing the associated costs of obesity, such as treatment for diabetes, bariatric surgery offers "a real bargain for the health economy and for wider society".
Alberic Fiennes, a bariatric surgeon and chairman of the National Bariatric Surgery Registry (NBSR) Data Committee, said the treatment should be made more widely available on the NHS.
"An approach that limits treatment to a fraction of those who would benefit is one which the NHS will rue in years to come as these patients become an unsustainable burden on the health service," he said.
"Prevention strategy alone has proved ineffective; there are at least two generations of morbidly obese patients who are now presenting with diabetes, stroke, heart disease and cancer for whom preventative measures are utterly irrelevant."
Speaking to BBC Radio 4's Today programme, Mr Fiennes said obesity was a "devastating, disabling and life-shortening disease".
When asked about the morality of the surgery, he said: "There is no question people become overweight because the eat more food than they need.
"Just in the same way people develop coronary heart disease because they didn't do two 10-mile runs a day and ate some bacon sandwiches in an earlier life, and yet we treat them.
"I think it is very invidious to set the disease of one person against another. What we have to recognise is this a new disease and as the world changes new diseases appear."
Royal College of Surgeons president John Black said the problem was not going to "miraculously disappear" and called on the government to develop a long-term plan.
"Surgeons have been saying for years that the NHS is on the brink of being swamped by obesity-related referrals," he said.
However, the chairman of the charity Diabetes UK, Professor Sir George Alberti, emphasised that people who were obese should try to lose weight through diet and lifestyle changes first.
"We agree that bariatric surgery should be used as an alternative treatment to help people lose weight if all other attempts have been unsuccessful and their diabetes remains poorly controlled," he said.
David Stout, deputy chief executive of the NHS confederation, which represents bodies such as foundation hospitals, primary care trusts and doctors' groups, said it was not just a question of cost.
"It's about how we want to operate in this country, in terms of where we invest our resources and how we expect people to live," he told the BBC.
"We see surgery as one of the options we offer but prevention is better than cure."
A Department of Health spokesman said surgery should be "a last resort".
"Often, just losing a small amount of weight can reduce the risk of problems such as type 2 diabetes," he said. "The local NHS should have weight management services in place to meet the needs of their population."
Related Internet Links
The BBC is not responsible for the content of external sites.