Lansley faces confidence vote by nurses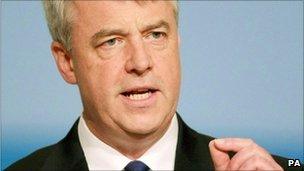 Health Secretary Andrew Lansley is facing a confidence vote from nurses in reaction to his planned changes for the NHS in England.
After a "listening exercise" at Downing Street with the PM and voluntary sector representatives, Mr Lansley will go to the Royal College of Nursing Congress.
He will meet a group of 50 nurses - not the whole conference - which has prompted some to question his nerve.
And Labour leader Ed Miliband is due to make a speech on the plans.
Under the shake-up, GPs are to be given control of much of the NHS budget, while greater competition with the private sector will be encouraged.
But critics, including the Royal College of Nursing, have warned the changes could undermine the NHS.
After months of attacks, the government said last week it would run another consultation, even though the bill underpinning the changes has already started progressing through Parliament.
Wednesday marks the first significant step in that process. In the morning, Mr Lansley is meeting voluntary sector chiefs in Downing Street to discuss how they can get involved in delivering services.
He will then travel to Liverpool to meet nurses. Instead of addressing the entire conference - as public health minister Anne Milton did on Tuesday - he will have a separate meeting with 50 nurses representing all parts of the UK.
The decision to attend the smaller meeting has caused anger among delegates at the conference.
Julian Newell, an A&E nurse from Sheffield, said: "I think it's a shame Andrew Lansley does not have the guts to come up and face congress as a whole tomorrow.
"I'm not sure it's the right thing to say we'll have a selected group of small people to meet with him.
"I would rather us say if you can't face congress as a whole then we don't want to meet with him."
RCN general secretary Peter Carter also questioned the decision. "It's his judgment call, he feels it's better but he is going to get stick from congress. Congress is going to interpret it as him not having the courage to speak to them."
But a Department of Health spokeswoman defended the decision. She said Ms Milton, as a former nurse, was the right person to address delegates, allowing the health secretary to come and "listen and reflect" rather than lecture.
She added: "Nurses are the backbone of our NHS. As a demonstration of our support, two government ministers are attending congress."
Related Internet Links
The BBC is not responsible for the content of external sites.