Brain scans fuel hope of early Alzheimer's detection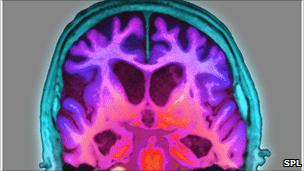 Brain scans may be able to indicate potential Alzheimer's patients years before symptoms appear, according to the results of a small study.
Research published in Neurology showed parts of some patients' brains had shrunk up to a decade before signs of Alzheimer's would otherwise be evident.
Alzheimer's Research UK said there was stong evidence that the disease began to develop in mid-life.
Early diagnosis may one day prove vital in enabling effective treatment.
Sixty-five patients, all of whom started with normal brain function, took part in the study at Massachusetts General Hospital and the Rush University Medical Center in the US.
MRI scans were taken and the thickness of regions of the brain were measured.
Twenty per cent of patients with brains of average thickness went on to develop Alzheimer's.
However, no patients with thicker brains developed the disease, while 55% of those with thinner ones also contracted it.
Dr Brad Dickerson, lead author and neuroscientist at the Massachusetts General Hospital, said: "We used what we know about the signature brain changes seen in patients with Alzheimer's dementia, measured those areas in individuals with no symptoms and eventually determined that those who ultimately developed dementia showed subtle shrinking long before they had any symptoms."
In the UK, one in 14 people over the age of 65 has Alzheimer's disease.
Research suggests that it takes several years before the disease produces noticeable symptoms.
It means any form of treatment might need to start in middle age, so early diagnosis would be vital.
Rebecca Wood, chief executive of Alzheimer's Research UK, said: "This adds to growing evidence that the changes associated with Alzheimer's disease begin long before symptoms start to appear.
"However, this is a small study and it needs to be expanded before we can be certain of the method's accuracy in predicting Alzheimer's.
The authors acknowledge that further work involving many more patients is needed.
Related Internet Links
The BBC is not responsible for the content of external sites.