Children 'have wider waists now than in 1978'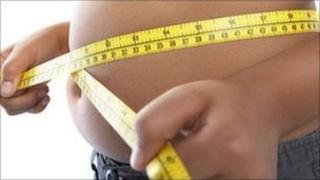 Today's generation of 11-year-olds are significantly taller - and fatter - than their parents were at the same age, a survey suggests.
According to the first ever nationwide sizing survey using 3D body scanners, both typical waist-lines and height have increased over the last 30 years.
The findings are based on measurements of more than 2,500 children aged four to 17, taken in 2009-10.
High street retailers will use the results to provide more accurate sizes.
Several of them sponsored the research, and they will also use the data to better design children's clothes.
Girls are typically 2cm taller, with waist measurements up by 8cm, and boys are 4cm taller, with waists up by 7cm.
The survey, called Shape GB and carried out by Select Research, suggests that two current beliefs prevalent among retailers are wrong: that boys' and girls' body shapes do not differ significantly before the age of seven, and that the average height of five-year-old boys is 110cm when it is actually 115cm.
An average 11-year-old girl today is 148.8cm tall, compared with 146cm in 1978, an increase of 2.8cm or 1.9%.
'New insights'
Because the 3D scanner does not compress the skin like a tape measure does, and the scanner also measures the small of the back, it produces waist measurements around 1.9cm larger than a tape measure.
Accounting for that difference, the average 11-year-old girl's waist has increased by 8.3cm, or 13.9%, to 70.2cm.
The last major survey on the topic was released by the British Standards Institute in 1990, based on measurements taken from more than 8,300 children in 1978.
The average boy of 11 now stands 148.2cm tall, up from 144.6cm in 1978, a 3.6cm or 2.5% increase. His waist is up by 7cm to 70cm.
Richard Barnes, of Select Research, said the 3D measurements could help to develop a body volume index (BVI), which may prove to be more useful than body mass index (BMI) in assessing the health risks posed by childhood obesity.
Mr Barnes said: "The increases in waist circumference since 1978 show that children have got bigger. However, increases in height and chest size show that children in the UK have grown over the years in many ways.
"Measuring body shape in 3D and where a child's weight is distributed may provide us with new insights on the actual risk to health and change perceptions of what health interventions are required."