Handwash reminder for farm visits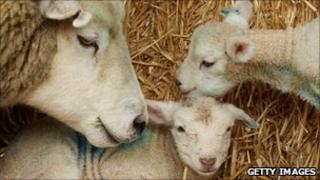 Hand gels and wipes should not be used in place of soap and water to protect against germs at children's farms, say health experts.
The Health Protection Agency has issued the warning ahead of Easter, when many families visit open farms.
It says hand gels cannot remove contamination in the way that soap and water can, but may provide extra benefit after washing.
About three outbreaks of stomach upsets a year are linked with petting farms.
Dr Bob Adak, an expert in gastrointestinal disease at the HPA, said visiting a farm is an enjoyable experience but contact with farm animals carries a risk of infection.
"It is very important to avoid direct contact with animal droppings and also to be aware of the importance of good hand hygiene.
"As soon as you have finished touching the animals it is very important to wash your hands using soap and hot water and then dry them thoroughly.
He said children should be supervised when doing this as they are more at risk of serious disease.
"Visitors should be aware that using sanitising gels is not a substitute for washing hands as gels may fail to remove contamination in the way that soap and running water can," he added.
"However using sanitising gels following handwashing with soap and water may provide extra benefit.
"By being aware and by doing these simple things we can help to avoid illness and enjoy a fun day out."
Research by the HPA into 55 outbreaks linked to petting farms between 1992 and 2009 showed one of the risk factors for illness was using hand gels instead of handwashing.
Illnesses included diarrhoea and occasionally more serious conditions.
About half of outbreaks were caused by E. coli.
The HPA said hand gels were useful in areas that were generally clean - such as offices - but are not effective in killing bugs like E. coli.
Commenting on the research, Dr Katie Laird, senior lecturer in pharmaceutical microbiology at De Montfort University, said E coli produced toxins which can cause "nasty symptoms" such as fever and diarrhoea and in some cases can lead to complications including renal failure.
"The transmission route for E coli is faecal-oral, therefore to prevent the transmission of the disease it is essential to ensure that hands are washed thoroughly after being in places such as petting farms and to ensure that children do not put their hands in their mouths during visits to such sites."