TB screening 'missing most cases'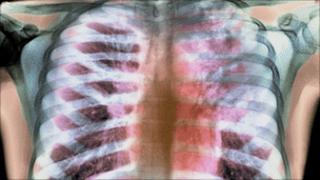 Current screening for TB in immigrants arriving in the UK is missing the majority of cases, say researchers.
Using new blood tests for checks would be better than chest X-rays, which detect only active infections, says an Imperial College London team which analysed more than 1,000 immigrants.
Blood tests could prevent substantial numbers of cases, they write in The Lancet Infectious Diseases.
The government said the research backed new guidance from health watchdog NICE.
Tuberculosis is caused by a bacterial infection, which attacks the lungs.
It has risen dramatically in the UK over the past decade, partly because of an increase in cases among people who move to the country from overseas.
Immigrants arriving in the UK from countries with a high incidence of TB are required to have a chest X-ray on arrival to check for TB.
But this screening method can miss cases where the infection lies dormant in the lungs and does not cause symptoms.
Professor Ajit Lalvani, of Imperial College London, argues that new blood tests should be used to pick-up cases where people are carrying TB infection but will not develop it for several years.
His research is based on an analysis of more than 1,000 immigrants at centres in London, Leeds and Blackburn.
He said: "By treating people at that early stage, we can prevent them from developing a serious illness and becoming infectious.
"Crucially, this wider screening could substantially reduce TB incidence while remaining cost-effective. Our findings provide the missing evidence-base for the new national strategy to expand immigrant screening."
NICE updated its guidelines on TB screening in March.
Latent infections
A spokesperson for the Department of Health said: "We are pleased that this research backs up the latest NICE guidance on TB screening.
"We expect the local NHS to consider the best ways of tackling this issue in their area."
Dr John Moore-Gillon, vice-president of the British Lung Foundation and a TB specialist, said: "In the past 20 years, rates of tuberculosis (TB) have been falling in virtually every developed country, except the UK where they have been rising rapidly.
"This research highlights the importance of identifying those individuals with latent TB infection, before they become ill themselves and potentially dangerous to others.
"Untreated TB leads to many unnecessary deaths and a great deal of suffering, and if this new approach to screening is adopted we may at last move towards reducing TB in this country."