Chromosome 22's missing link a clue to health problems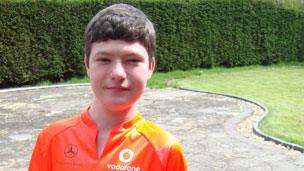 Harrison Stedman was five months old when a health visitor became concerned about him turning purple.
Later that day, after he was transferred to the Royal Brompton Hospital in London, Harrison's parents were told he had a complex heart condition, caused by a genetic defect known as 22q11 deletion syndrome.
"It's the most common genetic deformity that no one has heard of," says his father Bernard.
But they already knew something wasn't right.
"Harrison spent a lot of time with colds, didn't put on weight and tended to sit silently because he didn't have the energy to cry. He would always be fighting for breath."
For the 200 children born with the illness each year, there are a significant number of medical problems to deal with. These can include heart defects, cleft palate, breathing and speech problems, learning difficulties and a compromised immune system.
There are 180 different symptoms altogether.
Since Harrison's diagnosis he has had four major heart operations and many others to repair his arteries.
He was oxygen-dependent for three years as a young child and has continuing cardiac problems.
"It was a merry-go-round of medical appointments," Bernard says.
"We kept being referred to different hospitals and units, and making extra trips to lots of doctors and specialists who wanted to help us.
"In the end we felt we had become more knowledgeable about 22q than the doctors."
But at that stage they had no idea about the other factors that would come into play as a result of the genetic condition.
Harrison also has speech and language difficulties, although these didn't stop him from attending a normal state primary school when he was five.
However, when his parents realised Harrison wasn't progressing and he was finding school physically too exhausting, they took the decision to educate him at home.
They set up a classroom in their house and followed the national curriculum to the letter, with his mother acting as tutor and carer for six years.
Harrison is now 13 years old: his needs have changed again and he attends a special school near his home.
"He says school is much easier than being taught at home by Mum. He is doing well and is enjoying mixing socially with other children with similar problems. It's made him more confident," Bernard says.
The genetic condition Harrison suffers from is caused by a missing piece of chromosome 22 at "position 11" in the chain.
Dr Alex Habel, consultant paediatrician at Great Ormond Street Hospital in London, calls it "a very vulnerable, very special" bit of chromosome.
The unstable part of chromosome 22 is important in the formation of organs and also in relation to learning and behaviour disorders.
"Its early identification is vital. If we can recognise problems early then the children with 22q won't be swamped or submerged in the system. There are too many examples of kids left not coping," says Dr Habel.
A cleft palate, slow learning and heart problems are the main clues to whether a child has 22q deletion syndrome, which has been known as DiGeorge syndrome and velocardiofacial syndromes over the years.
Although Harrison will need his biochemistry monitored throughout his life, Dr Habel says a new technique could help future research into the genetic condition.
"If chromosomes are the chapters of the book, we can now look at the single lines on the page which are the DNA sequences, thanks to a technique called array CGH," he says.
In the meantime, Harrison is concentrating on making new friends at school and learning to make spaghetti bolognese, his favourite dish.
Related Internet Links
The BBC is not responsible for the content of external sites.