Car seat with heart monitor could prove a life-saver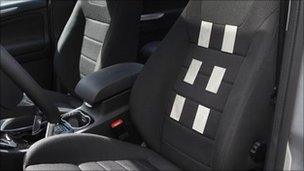 Car manufacturer Ford is developing a car seat for older drivers that keeps a check on their heart.
With more of its customers now falling into the over-65 age bracket, it says it makes "good business sense" to focus on the health of its drivers.
Six small sensors fitted into the back of the seat trace the heart's rhythm in the same way as an ECG.
If a problem is spotted the car could alert the driver and even bring itself to a halt.
And vital information could be sent to medical centres via the driver's mobile phone.
Ford believes its seat, which it says needs another couple of years of road-testing, could reduce the number of accidents caused by heart attacks at the wheel.
With 23% of Europe's population expected to be 65 or older by 2025, and 30% by 2050, the number of drivers at risk of heart attacks is likely to rise considerably in the coming decades.
Tests in about 200 volunteers show it can give accurate readings during 98% of driving time for 95% of drivers, says the company.
But there are still some glitches to iron out.
Whereas a normal ECG machine in a doctor's surgery requires metal electrodes to be attached to the skin at various points on the body, the Ford ECG seat's built-in sensors detect heart activity through the driver's clothing.
While the sensors can cope with shirts and even jumpers, a heavy winter coat would be too much for them to get past.
Similarly, some body shapes might not work.
But its developers are hopeful that they have a product that will benefit not just drivers, but pedestrians too.
Dr Achim Lindner, Ford Research Centre medical officer, said: "The system will be able to detect if someone is having a cardiovascular issue, for example a heart attack, and could also be used to detect the symptoms of other conditions such as high blood pressure.
"This not only benefits the driver, but also could make the roads safer for all users."
Road Safety Minister Mike Penning said: "Britain has some of the safest roads in the world and the number of people killed on the roads has fallen by more than half in the last 20 years.
"We welcome the voluntary introduction of effective safety technologies by manufacturers to help further reduce the number of road deaths and injuries."
In England, Scotland and Wales, patients with angina, valvular heart disease, a heart murmur or heart failure do not have to tell the Driver and Vehicle Licensing Agency (DVLA) and can continue to drive a car a month after an episode as long as their doctor says they are fit to.
But those with arrhythmias or a pacemaker will need to tell the DVLA.
The British Heart Foundation advises patients: "Always let your car insurance company know about your heart condition and any changes in your medical condition, including any treatment that you have had. If you don't, your car insurance may not be valid."
Related Internet Links
The BBC is not responsible for the content of external sites.