Lifeline to blood cancer patients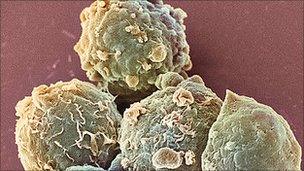 Patients with a rare blood cancer have learned a new drug that can prolong remission is to be made available on the NHS in England and Wales. Here, one man explains the realities of living with the cancer.
When Andy Barton went to the doctor with a lump in the groin, he expected to be told it was a hernia and nothing to worry about.
But a few weeks later, the 49-year-old had been diagnosed with cancer and was facing an agonising wait to see if it would spread.
"I must have had this for several years without knowing about it," says Andrew, a project manager from Wirral, Cheshire.
"It was harder to spot having a lump in the groin. Typically, it appears in the neck, where it is more obvious."
The cancer, called follicular non-Hodgkin's lymphoma, makes white blood cells known as B-cell lymphocytes grow into tumours.
Andrew's was quite advanced - and had spread to other parts of his body.
But since this type of cancer is generally slow-growing, and there may be long periods where there is little or no change, doctors often take the approach of watching and waiting.
"It's not going to kill you tomorrow or next week or next month," Andrew says. "But it's hard to get a grip when you're told you've got cancer and we're not going to do anything about it.
"It's cancer, and unless something else gets me, it will kill me."
After about six months, Andrew started waking at three in the morning, drenched in sweat. Night sweats - and other symptoms such as unexplained weight loss - are hallmark signs of the cancer.
He was given a cocktail of drugs, including chemotherapy, steroids and monoclonal antibodies.
When this course finished - in July last year - he faced a dilemma.
Andrew was told he could benefit from an extra course of monoclonal antibodies, used on their own in an attempt to prolong his remission.
He needed to start this by October to have the best chance of success - but the drugs were unavailable on the NHS.
Fortunately for Andrew, he was able to fund them through medical insurance.
"If not, we would have had to think about selling the house or getting some money from elsewhere," he said. "They cost £1,500 or more a go.
"When you are faced with a choice of, 'You must start your treatment in October,' you do what you can to get the treatment you need."
The drug, known as rituximab, is given by intravenous infusion once every two months.
It works by targeting a specific protein found on B-cell lymphocytes, thereby killing defective cells, while allowing normal white blood cells to survive and expand.
The drug has just been given the green light for use on the NHS in England and Wales by the National Institute for Health and Clinical Excellence (NICE).
NICE said evidence presented to the committee suggested it could keep a patient's cancer in remission for longer, after they had had chemotherapy.
Andrew says: "I welcome NICE's decision - it's the right thing to do.
"Not everyone has access to Bupa or the ability to sell a house to buy the drug themselves. This is what the NHS is for."
Lymphoma Association chief executive Sally Penrose says patients with the cancer often face a long and challenging journey, with repeated cycles of treatment, remission and relapse.
The new treatment gives them a chance of longer periods of first remission, she says, "giving them greater peace of mind and, in turn, helping to restore normality to their daily lives".
Andrew says his approach is to remain stoical.
When he was first diagnosed he started a blog, Still My Turn This Year, charting the ups and downs of his illness.
"It's always there in the back of my mind, but there are people worse off than me - you have to get on with life."
Related Internet Links
The BBC is not responsible for the content of external sites.