Alcohol-related hospital admissions reach record level
By James Gallagher
Health reporter, BBC News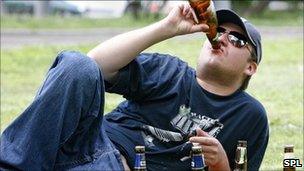 The number of alcohol-related hospital admissions in England has topped one million for the first time, according to official statistics.
That includes liver disease and mental disorders due to alcohol abuse as well as some cancers, accidents and injuries.
The Department of Health will publish a new alcohol strategy later this year.
The number of admissions reached 1,057,000 in 2009-10 compared with 945,500 in 2008-09 and 510,800 in 2002-03.
Nearly two in three cases were men.
Earlier this year the charity Alcohol Concern predicted the number of admissions would reach 1.5m a year by 2015. It estimated that would cost the NHS £3.7bn a year.
Tim Straughan, chief executive of the NHS Information Centre, said: "Today's report shows the number of people admitted to hospital each year for alcohol related problems has topped 1m for the first time.
"The report also highlights the increasing cost of alcohol dependency to the NHS as the number of prescription items dispensed continues to rise.
"This report provides health professionals and policy makers with a useful picture of the health issues relating to alcohol use and misuse. It also highlights the importance of policy makers and health professionals in recognising and tackling alcohol misuse which in turn could lead to savings for the NHS."
Professor Sir Ian Gilmore, the chair of the UK Alcohol Health Alliance, said: "This confirms doctors' impressions that the health harm from alcohol continues to rise.
"While total alcohol consumption has fallen in recent years it is likely that the number of abstainers in England is increasing, but those who do drink continue to do so in a harmful and destructive way."
The body which represents drinks manufacturers in the UK, the Portman Group, expressed surprise that admissions had increased at the same time as alcohol consumption had decreased.
David Poley, chief executive of the Portman Group, said: "If the hospital admissions data are robust, they clearly put paid to the argument that measures to reduce overall alcohol consumption are effective in reducing harm.
"The report shows that the proportion of people misusing alcohol is falling. We just need to find a way of persuading and educating this hard core of misusers who account for these admissions to drink responsibly."
Alcohol Concern said the latest set of figures were alarming but that early detection of alcoholism contributed to the increase.
Its director of policy and communications, Nicolay Sorensen, said: "More people than ever before are drinking in a way that is harming their health and it's a serious public health problem. It's one of the biggest public health problems facing the country.
"In addition, the NHS has been doing some great work to identify people that have alcohol problems and so some of the increase is due to better identification and better referral."
Public Health Minister Anne Milton said: "These statistics show that the old ways of tackling public health problems have not always yielded the necessary improvements.
"We are already taking action to tackle problem drinking, including plans to stop supermarkets selling below cost alcohol and working to introduce a tougher licensing regime.
"We will also be publishing a new alcohol strategy later this year."
Rates of alcohol-related hospital admissions came down in the past two years in Scotland, after increasing for a decade. In Wales, figures for up to 2006 showed increasing admission rates and in Northern Ireland the total number of admissions increased year on year since 2006/07.
Related Internet Links
The BBC is not responsible for the content of external sites.